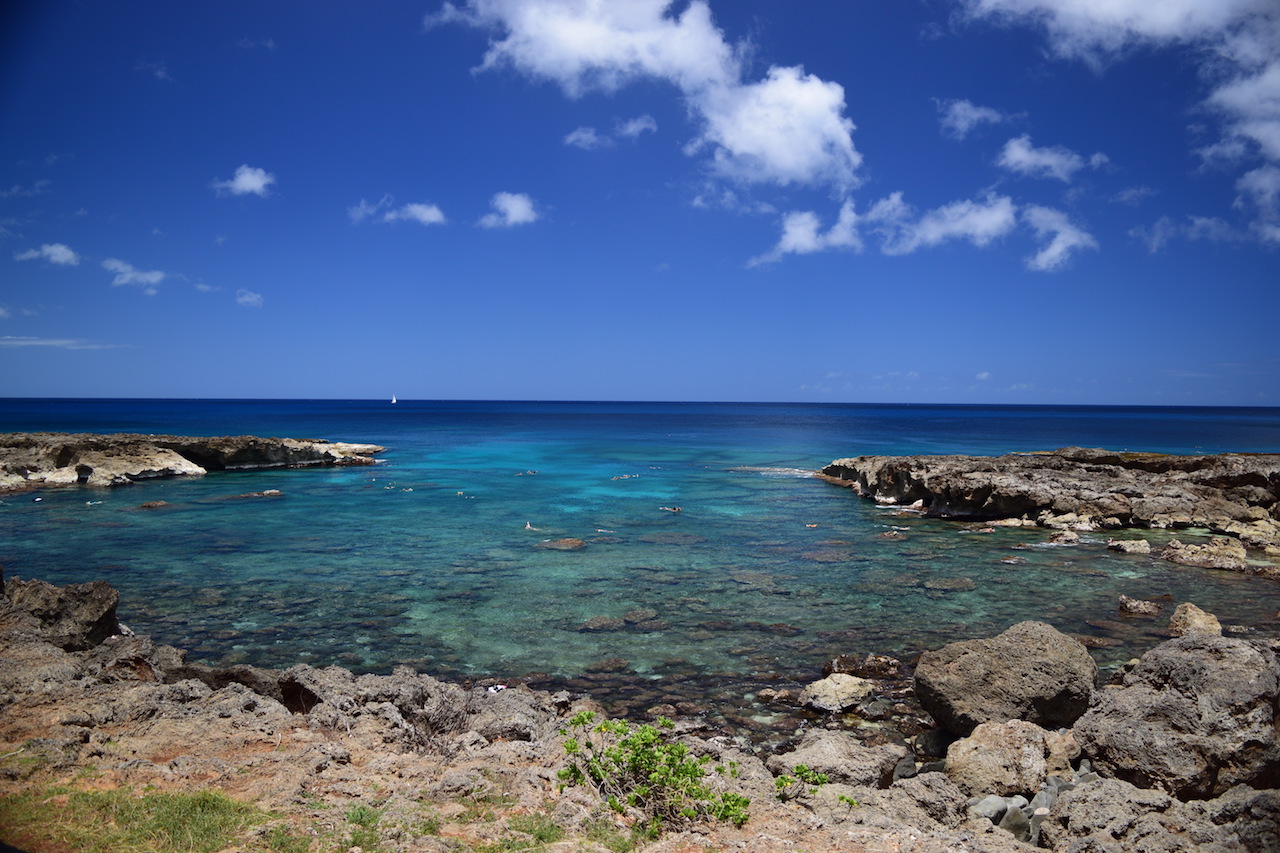 Shark's Cove is highly regarded as one of the best snorkeling spots on Oahu.
It's a little far from Waikiki because it's on the north shore, but if you're traveling by car, be sure to check it out.
It is a very good snorkeling spot during the summer (*) because the water is clear and you can easily get to the depths.
There is also a toilet and shower, so if you can secure a place to park your car in the parking lot, you can enjoy snorkeling to your heart's content.
(*) Snorkeling is not recommended during the winter as the waves are extremely high on the entire North Shore.
Most websites recommend May to October, but I went there in the second half of April and had no problems at all.
Access and Parking Lot
Shark's Cove is about a 10-minute drive north of Kamehameha Highway from Haleiwa.
It's less than an hour and a half drive from Waikiki, and about 15 minutes from Turtle Bay Resort.
There is a bus that passes in front of Shark's Cove, but if you try to go by bus from Waikiki, it will take about two and a half to three hours one way, so it's a bit unrealistic.
The parking lot is on the side of the road and on the sea side.
It seems that the parking lot often starts to fill up from 9:30 to 10:00 because of the popular spot, but we arrived around 12:00 and were able to park the car. I think this depends only on the timing.
Bay and Tide Pool
When playing with Shark's Cove, there are two main areas: bay and tide pool. Facing the sea from the road, the tide pool is on the left and the bay is on the right.
The main is the bay on the right side, and you can go out to a moderately deep place, so you can fully enjoy snorkeling.
The tide pool is a rocky area with a depth of several tens of centimeters, and marine life inhabits it. It is a place where even young children and those who are not good at snorkeling can easily see the fish.
Bay
If you want to enjoy snorkeling, go to the bay.
Since the seabed is rocky as a whole, the transparency of the water is high, and you can see fish and sea creatures everywhere.
You can enjoy it even in shallow water, but it is also an advantage that you can easily go deep because there are no obstacles like the coral reefs in Hanauma Bay.
There are two main ways to get off to the bay area in the image below. You can get off the parking lot.
Both are paths that you can pass through, but be aware that the area where the two arrows meet is like walking on big rocks.
It is not impossible to go from the tide pool area, but the foothold is poor and it is quite difficult.
When you go down through the rocks, there is a narrow but sandy beach, so everyone puts their luggage there and enters the sea.
The beach is rocky and slippery, so if you have small children, take a closer look.
As you can see, you can see a lot of fish even at a depth of 1 meter.
If you look closely at the rocks, you will find such cute fish.
This is about 3 meters deep.
If you try to go to a place of this depth in Hanauma Bay, you have to swim a long distance (a little less than 100 meters?) Because you have to bypass the coral.
In Shark's Cove, you can see such a scene just by swimming about 10 to 20 meters.
The school of fish is shining beautifully.
If you look near the rocks, sea turtles may be having lunch.
Keep a certain distance and watch over it so that you do not accidentally touch it. (It is illegal to touch the honu)
Tide Pool
The tide pool is about several tens of centimeters deep, and even young children can enjoy it because they can see the fish from above the water without wearing a snorkel.
However, the bottom of the water is rocky and rugged, so marine shoes or at least flip-flops are essential (though they are likely to come off).
You can get off from the side of the toilet and shower to the tide pool.
This is the toilet and shower. It is very convenient because it is just above the tide pool.
The bay and the tide pool are next to each other, but there is a slight difference in elevation and it is a rocky area, so it is a little difficult to go back and forth between them. It is recommended that you go up to the parking lot and go down.
Equipment Rental
On the other side of the road, diagonally across the toilet and shower, there is a surf shop called North Shore Surf Shop.
It seems that you can rent equipment here, so please stop by if you need it.
Pros and Cons
Pros
You can enjoy snorkeling more easily than Hanauma Bay.
It is very convenient because it has a toilet and shower.
Snorkeling equipment can be rented diagonally opposite the toilet and shower. I didn't use it because I had my own snorkel and fins, but if you don't have one, you may want to use it.
Cons
During the winter (October-March) the waves are so high that you can't snorkel.
Please note that unlike Hanauma Bay, there are no resident lifeguards.
Marine shoes are essential because the tide pool area is rugged with rocks.
I'm sure many of the people who own a car (or those who are staying on the North Shore) prefer this one to the famous Hanauma Bay.
Please enjoy Shark's Cove.