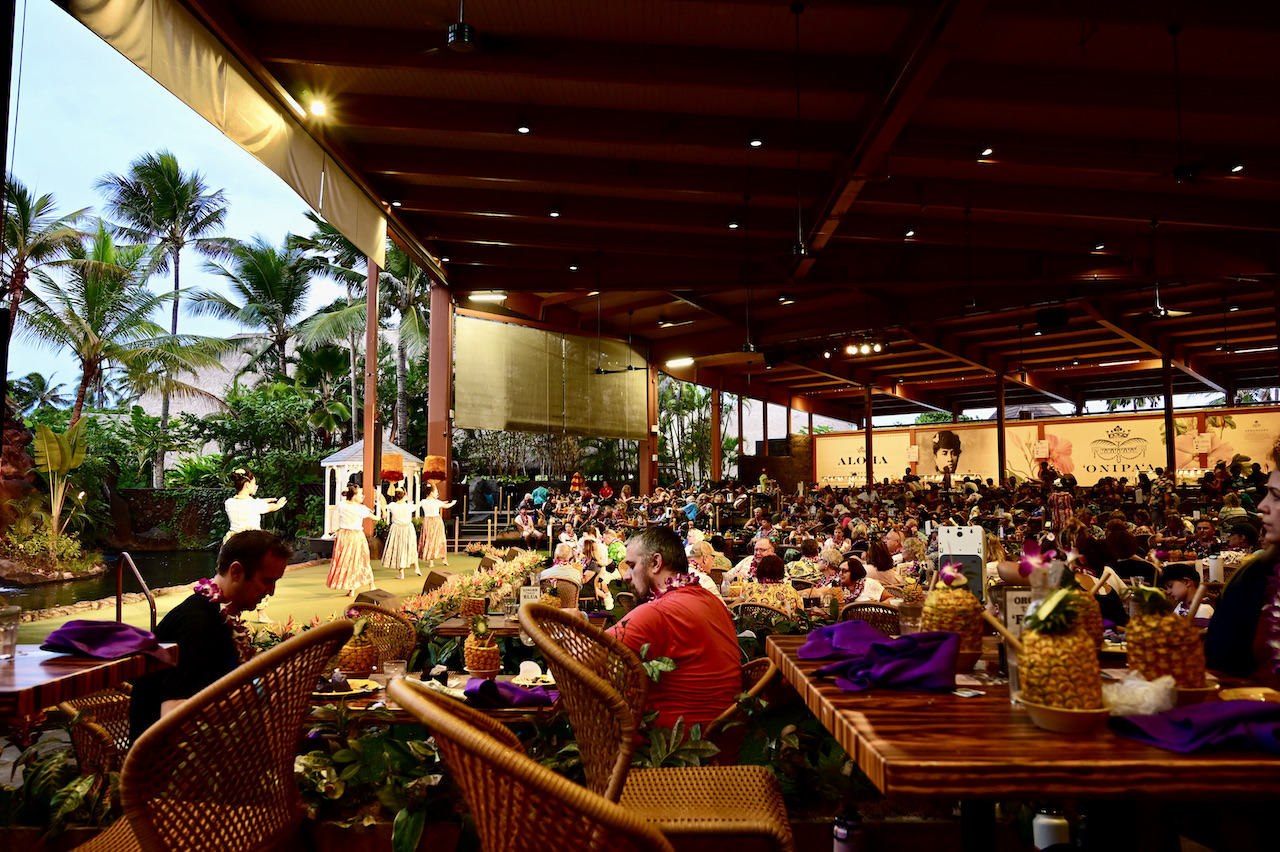 When it comes to dining at the Polynesian Cultural Center, many people are not sure whether they should dine at the Ali'i Luau, or the Gateway Buffet Restaurtant.
If you are one of those people, I wrote this article exactly for you!
Let me guide you through the differences, including the stage performance, venue, food, and seating at the night show, so that you can choose the one that suites you.
What are Ali'i Luau and Gateway Buffet?
First, let me quickly go over what Ali'i Luau and Gate Buffet are.
Ali'i Luau is a Hawaiian banquet (or luau), where you gather together at the special amphitheater-style restaurant, and enjoy traditional Hawaiian buffet while enjoying various performance of Hula and Hawaiian music on the stage.
Gateway Buffet is a Polynesian influenced buffet restaurant. While you enjoy the food and the live Hawaiian music in the background, you can still focus on the time with your family and friends, where there is no stage performance.
The followings are the main differences that I will be explaining in this article.
Ali'i Luau vs Gateway Buffet: What is the Difference?
Live Music and Performances
The biggest difference with any luau and a buffet restaurant is the entertainment.
Ali'i Luau offers a vibrant luau show full of dance, music, cultural ceremony, MC, etc, while Gateway Buffet offers cozy background music performed by a live band.
At Ali'i Luau, just like any other luau, there will be stage performance of dancing, storytelling and music, while Gateway Restaurant only offers live music.
I have been to Ali'i Luau multiple times, but I just don't get tired of their performance because it does such an amazing job to immerse the guests in the beautiful moment.
Currently, Ali'i Luau presents the program called 'Onipa'a. It is a tribute to Hawaii's last ruling monarch and only sovereign queen, Queen Lili'uokalani.
Some of you may be thinking, "don't they also have the night show after dinner?".
It is a legitimate point, but to me, it doesn't really matter because they are two different experiences. Ali'i Luau focuses on the Hawaiian hula and presents different styles of hula, while the night show presents dance and music from all over Polynesia.
You will still enjoy the night show after watching the performance of Ali'i Luau.
At the Gateway Buffet, you can enjoy live music, even though there is no dancing, in a more relaxed atmosphere compared to the Ali'i Luau.
Ali'i Luau vs Gateway Buffet: Venue
Ali'i Luau and Gateway Buffet are at two different locations, and the venues are very distinct.
Venue at Ali'i Luau
Hale Aloha, the location for Ali'i Luau, is an amphitheater-style venue specially built for luau.
As you can see, it is constructed in a way that the further the seats get from the stage, the higher it gets, so every guest has a proper view of the stage.
Having a special venue for luau is very unique, as other luaus on the island are usually held on a flat field and it gets harder to see the performers as you get farther from the stage.
Great stage set up with palm trees, rocks, waterfalls and and an Imu (Hawaiian oven) pit behind the stage, combined with the sky in the background. You can still see the sky change its color as the program progresses.
This is all while you are under the roof, safe from rain and wind, on the solid concrete floor, not grass or sand like other outdoor luau.
I would say there is no other venue that can make your luau experience more comfortable.
Venue at Gateway Restaurant
Now, let's look at the Gateway Restaurant.
I was really overwhelmed by the sheer scale of this massive facility when I entered. It is a dining hall built like a Samoan house, "Fale", and it is actually the largest indoor dining facility in Hawaii.
These facilities at the PCC do a really good job immersing the guests in Polynesian feels.
Even the doors are 12 feet tall and they suck you right into some Samoan palace for a feast.
Surrounding the hall is one of the largest mural paintings in the world, with a length of 150 meters and a total area of 740 square meters.
The mural depicts the people from Polynesian countries with Hawaiian royal family "Ali'i" welcoming immigrants from overseas.
Just like the Polynesian Cultural Center welcoming us, right?
The facility does every little thing to keep you inside the Polynesian experience: the wooden tables decorated with genuine "Kapa" cloth made in Samoa, the beautiful plants in the dining hall, and those shell-shaped lamps that softly illuminate the hall, you name it.
Ali'i Luau vs Gateway Buffet: Food
Both are island-inspired buffet and offer the typical and good ones like poke, Kalua Pork, Lomi Lomi Salmon, taro rolls, etc, but there are some differences.
Food at Ali'i Luau
The food at the Ali'i Luau had always been good and I liked them already, but they upgraded the food recently and it was amazing.
Even something that looked as simple as Poke was significantly improved.
They also added some new features like carving stations to serve roasted pork and local fish, and somes healthier options like Tofu poke.
When I visited Ali'i Luau in November 2021, they were serving these pina colada in a pineapple fruit to everyone for free too.
It was very surprising to me because I know these pina coladas used to be sold at $10 each and it was worth the price.
I am really not sure if you can find this kind of authentic but sophisticated luau food anywhere else.
Food at Gateway Buffet
When you look at some of the main categories from each restaurant, Gateway buffet actually has more variety than the luau in general. (Please note that the menu can change)
Ali'i Luau vs Gateway Buffet: Tour Guide
Aside from the dining option between Ali'i Luau and Gateway Buffet, your tour guide options will be determined by your selection of tour package.
As you can see below, Ali'i Luau is available for either Super Ambassador Luau or Ali'i Luau package.
These "Luau" packages will offer a tour guide during your village tour to organize your tour plan and share knowledge and information about the island of Polynesia.
Super Ambassador Luau package will offer a personal tour guide just for your party. Ali'i Luau package will offer a group tour guide, who will be taking care of your party, as well as a few other parties together.
For guests with Gateway Buffet package, it will be a self guided tour. You can still visit all the island villages and interact with the "villagers" as they share presentations, enduring customs and the traditions of their islands.
Ali'i Luau vs Gateway Buffet: Night Show Seating
The last thing I want to mention is the seating at the night show.
Gateway Buffet Package comes with "Silver" level seating, and Ali'i Luau Package and Super Ambassador Luau, which also features dining at Ali'i Luau, comes with "Gold" and "Platinum", respectively.
As you can see in the image above, "Silver" seats which come with the Gateway Buffet are either in the back or on the side.
You are closer to the stage and at a better angle, with the packages that feature Ali'i Luau, so Ali'i Luau is highly recommended to get the most out of the evening show.
For your reference, this picture was taken from the "Silver" level seating.
Ali'i Luau vs Gateway Buffet: How to Decide
Whether you should go to the Ali'i Luau or to the Gateway Buffet really depends on what you want between the village tour and the night show.
If you want to just keep going with entertainment and fully experience what Polynesian Cultural Center has to offer, go for Ali'i Luau.
It is a top-tier luau with delicious foods and sophisticated performance, provided in a facility built specifically for a luau. You will enjoy it.
If you want more relaxing and private time with your peers, go for Gateway Buffet.
You can come and go any time as long as the facility is open, so it will give you more flexibility and you can pay more attention to your peers.
Here are the packages and you get 10% of discount if you book at least 10 days in advance.
Also, you can check out the articles below, if you want to know more about each dining option.
My Recommendation is Ali'i Luau
Still, my recommendation would be the Ali'i Luau.
If you are considering going to any luau on the island on your trip, Ali'i Luau might just be the best deal around.
As you can see below, unlike other luaus available on the island of Oahu, you are getting a full-day experience at PCC.
And even though it is called Ali'i Luau Package, it comes with lots of other things.
You get immersed, learn and experience so much of different Polynesian cultures throughout the day.
Same can be said about the Gateway Buffet Package, but if you are planning to go to a luau, you might as well do it here.
I hope you enjoy your day at the Polynesian Cultural Center.
If you want to know more about each buffet, please read the articles below.