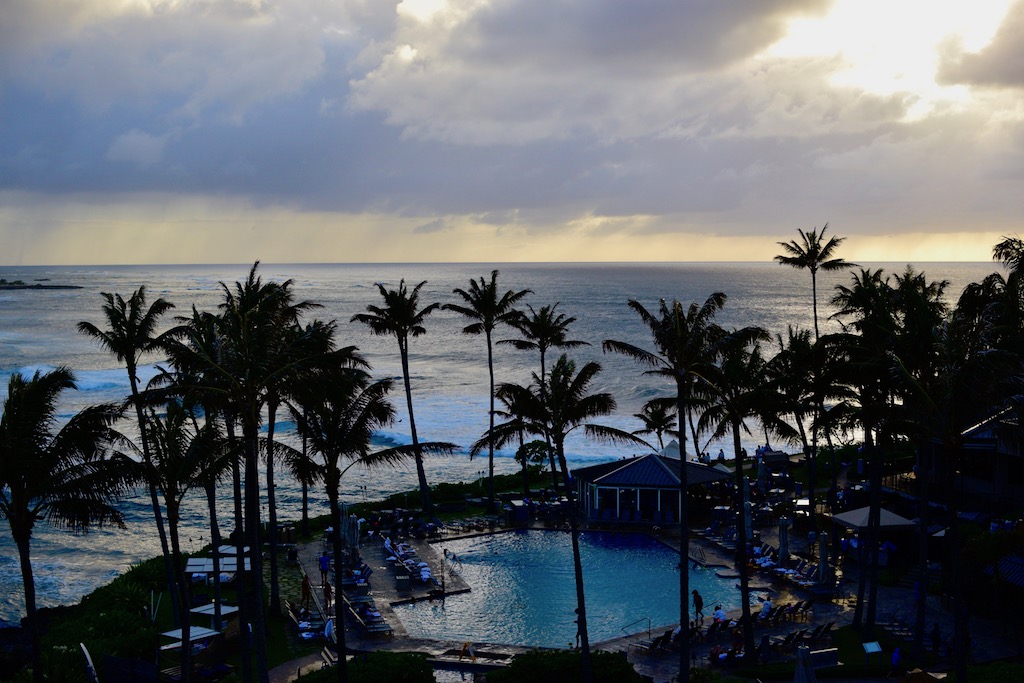 Located 25 mins away from Haleiwa and only 15 mins from Polynesian Cultural Center, this is one of the best hotels to stay at if you want your trip centered on the North Shore.
The resort has hotel, bungalows, and villas.
The hotel and the bungalows can be booked via Turtle Bay Resort's official website and share the same facilities and amenities for the most part.
On the other hand, the villas are kind of separated in a way that villa guests do not have access to the hotel's pool while they have own pool and jacuzzi, and bookings cannot be make via the resort's official website.
Name
Turtle Bay Resort
Built in
1972
Last Renovation
2021
Number of Floors
Hotel: 6
Bungalows: 1
Villas: 3
Check Availability
On Expedia
On Booking.com
* Some of you may know this resort as "Turtle Bay Hilton and Country Club", which was its until August 2001.
Hotel
The hotel building is comprised of three wings, each offering distinct views of the ocean and surrounding landscape.
The top floor is reserved for Premium Ocean View rooms and "Ocean Club" rooms.
Ocean View (Ocean Club Access Available)
| Roon Type | Ocean View |
| --- | --- |
| Room Size | 478 sqft |
| Beds | 1 King Bed or 2 Queen Beds |
Normal rooms are located on the 2nd to 5th floors, while Ocean Club guest room are located on the top floor, and come with exclusive privileges to our private lounge throughout your stay.
The Ocean Club Lounge offers a welcoming space, food and drink offerings, personal concierge, and more.
Most rooms have a private lanai or Juliet balcony and look out to the ocean or rooftop garden, but rooms on the 2nd floor in the East and South wings overlooking Kuilima Cove do not offer a balcony.
Premium Ocean View
These rooms are located on the top floor and most rooms have a private lanai or Juliet balcony and look out to the ocean.
Ocean View Suite (Ocean Club Access Available)
These large king suites also feature a pullout sleeper sofa, luxurious bathroom with soaking tub and shower, and private lanai.
If you book it with Ocean Club access, you will get exclusive privileges to the Ocean Club Lounge, which offers a welcoming space, food and drink offerings, personal concierge, and more.
Ali'i Suite
| Roon Type | Ocean View Family Suite |
| --- | --- |
| Room Size | 1450 sqft |
| Beds | 1 King Bed |
These one-bedroom suites are located on the 5th and 6th floors at the end of the west wing, where two spacious lanais let you take in sweeping ocean views all day long.
Bungalow
Bungalow rooms are separated from the hotel. You would get more silence and privacy.
Ocean Bungalow (Ocean Club Access Available)
| Roon Type | Ocean Bungalow |
| --- | --- |
| Room Size | 478 sqft |
| Beds | 1 King Bed or 2 Queen Beds |
Since most of the bungalows are facing West, you can expect to have a decent view of the sunset, especially from spring to fall.
Restaurants
Alaia
Beach House by Roy Yamaguchi
Off the Lip
Relax in the stunningly reimagined lobby lounge, Off The Lip, with live local music, craft cocktails, and breathtaking sunset views.
Ho'oalana
Ho'olana sits in the lobby and is where you can stop for a handcrafted Hawaiian latte, fresh pressed tropical juices and grab and go breakfasts and lunches.
Sunset
Pool bar
Lei Lei's Bar & Grill
Paniolo Pa'ina
Paniolo Pa'ina is a weekly buffet with hula show and hula lessons held every Thursday.
Event Name
Paniolo Pa'ina
When
Every Thursday
Time Table
17:00 – 17:30: Doors Open | Welcome Drink, Lei Greeting, and Paniolo Music
17:15 – 18:00: Buffet Begins | Hula Lessons
18:10 – 18:50: Paniolo Hula Show & Story Telling
18:50 – 19:10: Fire Knife Dance & Drums Performance
19:10 – 20:00: S'mores served by Firepit
Price
Adults: $195+ tax
Children (4-12): $120 + tax
Children (3 & Under): Free
Facilities
Ocean Club Lounge
Ocean Club Lounge is a casually elegant private lounge with stunning ocean views.
At the Ocean Club Lounge, guests can enjoy complimentary drinks and food throughout the day; coffee and a selection of breakfast, snacks, lunch, and appetizers and red and white wines and beer in the evening.
You can add exclusive access to the lounge to your stay at any of the rooms in the resort (hotel or bungalow).
Restaurant Name
Ocean Club Lounge
Hours
Breakfast: 7:00 – 10:30
Lunch: 11:30 – 14:30
Evening Appetizers & Beverage: 17:00 – 19:30
Call
866-475-2569
Menu Link
https://www.turtlebayresort.com/dining/the-club
Price
$315 / Day per room. (Up to 2 adults. Call 866-475-2567 for additional purchase.)
Pool
These beach side pools are great for both adults and children. Main Resort Pool features hot tubs and the Keiki Pool has two water slides.
Though the resort is located on the quiet side of the island, you still can have a lot of fun.
Beach
The beach right by the hotel, called "Kuilima Cove", is a children-friendly beach with calm waves and shallow water.
With the rocks and corals out in the water that works as a barricade, the waves do not get high and it is also good for beginner snorkeling.
You can see some fish in the water, and you might also encounter sea turtles if you are lucky.
You can rent a beach cabana or umbrella for the day and take advantage of food service from the Beach House by Roy's Yamaguchi located right on the beach.
There is a beach shack here where guests can purchase snorkeling equipment.
Nalu Spa
Choose your ideal treatments from their menu of spa services.
Whether you are looking for a relaxing massage, healing benefits of our body scrubs, Hydrafacial and detox wraps, or to pamper yourself before a big event, their full menu of services is sure to have just what you are looking for, plus a few delightful services you didn't know you needed.
Tennis Court
Play a friendly game or practice your skills at one of their four tennis courts.
Turtle Bay Resort guests can rent a court for $15/hour.
They have rackets, balls, and a ball machine available for rent and cans of new balls to purchase.
Activities
Turtle Bay Resort offers a ton of activities you can participate. Here is the list of only some of the activities offered at the resort.
| Activity | Description | Location | Link |
| --- | --- | --- | --- |
| Horseback Riding – Private Rides | Take a private one-hour trail ride through through our scenic trails. Perfect for advance riders or couples seeking a romantic sunset ride.  | The Stables | Reserve Now |
| Horseback Riding – Group Rides | Horseback riding along the beach is one of the best ways to explore the North Shore. Grab your family and friends for a leisurely ride along the coast. We offer 45-minute and 75-minute rides daily.  | The Stables | Reserve Now |
| Horsemanship 101 | Learn all aspects of horseback riding and equine care. This hands-on experience is great for all ages. Classes designed just for keiki, ages 7-14, are also available.   | The Stables | Reserve Now |
| Pony Experience | Give your keiki (child) an experience they'll remember forever. This hands-on activity is just for children 6 and under. Keiki will enjoy grooming, feeding, and riding a pony. | The Stables | Reserve Now |
| Grom Surf Experience | The best way to introduce your grom (child) to the sport of surfing. For keiki 12 and under, the specially trained instructors at the Jamie O'Brien Surf Experience offer a one (1) hour, custom one-on-one introduction to surfing. Providing your child their perfect first waves in a safe and fun environment. | | Reserve Now |
| Surf Lessons | Learn to surf with Jamie O'Brien Surf Experience. If you're new to surfing or want to catch a wave with a pro, your certified instructor will inspire you with confidence, motivation, and knowledge to ride North Shore's famed waves. Private, semi-private and group lessons available daily.  | | Reserve Now |
| SUP Lessons | Go stand-up paddle boarding (SUP) in the protected waters of Kawela Bay. Grab your 'ohana, join a group session, or take a private lesson with our exclusive surf partner, Jamie O'Brien Surf Experience. All ages and skill levels welcome.  | | Reserve Now |
| SUP Squatch Adventure | Come and experience stand up paddle boarding (SUP) in a whole new way. Your certified surf instructor of the Jamie O'Brien Surf Experience will take you and your crew on a ride atop a XXL inflatable board. For groups of 3-4 people.  | | Reserve Now |
| Helicopter Tour | See places completely inaccessible by car with an epic doors off experience. Discover hidden gems and breathtaking views of historic landmarks, North Shore's famed surf breaks, and the 1,000-ft Kaliuwa'a (Sacred Falls), Tours take off right here at Turtle Bay with 60, 40, and 20-minute tours available. | | Reserve Now |
| Helicopter Custom Charters | Paradise Helicopter's award-winning charter service will take you to new heights. Let their team of Charter Specialists design an unforgettable excursion just for you. Plan a surprise proposal or make your loved one's dream come true with a customized itinerary.  | | Reserve Now |
| Bird Watching Tour | Kukakuka means talk story. In this enriching educational tour, you'll be transported in an electric safari vehicle over 7 miles off-road to explore the resort's wilderness trails. Spotting native birds along the way and hearing stories of Hawaiian culture and the history of WWII.  | Turtle Bay Resort | Reserve Now |
| Cultural Bike Tour | Hear the untold stories that encompass the resort's 1,300 pristine acres. Take a bike ride with our local expert as they guide you to significant points of interest. | Turtle Bay Resort | Reserve Now |
| Stargazing | Experience a private, small group stargazing event high-powered telescope guided by an expert astronomer. Guests will have the opportunity to see details of planets and stars as well as learn about constellations and Hawaiian Navigation.  | Stables Lawn | Reserve Now |
| Beach Picnic | Make your stay even more memorable with a beachside picnic or outdoor movie night. Whatever the occasion, let our local experts handle all of the details to delight you and your loved ones.  | | Reserve Now |
| Surf with Pup | Catch a wave with Rocky and his friendly surfing dogs on this fun and unique experience. Families and keiki will enjoy spending time in the water with the company of man's best friend. | Turtle Bay Resort | |
| Segway Tours | Tour the incredible grounds of our 1,300 acre resort on a Segway. Glide along the shoreline to Kahuku Point, the northernmost point of the island. Where you'll be treated to panoramic ocean views. There's plenty to discover along the way – native birds, coastal vegetation, and tide pools.  | Turtle Bay Resort | Reserve Now |
| Splash with Pono | Take a leisurely hike with our Canine Ambassador, Pono. This 1.5 mile hike is suitable for all ages and the path is stroller friendly. Donations to Hawaiʻi Fi-Do Service Dogs are welcomed. Reserve your spot at the Guidepost. | Turtle Bay Resort | |
| Pony Meet & Greet | Get up close with our four-legged friends at The Stables. This family-friendly activity is perfect for little ones who are curious about horses. Get an introduction to basic horse knowledge and care. | The Stables | |
Golf
They have three golf courses including one that was designed by Arnold Palmer.
If you are planning to stay at the resort, they offer Stay and Play package which includes:
Villa
Aside from the hotel and the bungalows, Turtle Bay Resort has one more option, the Villas.
As villa residents, you can use most of the amenities the Turtle Bay Resort has to offer, including restaurants and bars.
Some of the few exceptions is the hotel pool, business center and the beach chairs. But don't worry. Villas offer their own heated pool and Jacuzzi, printer/fax/copiers in each villa and wireless internet, beach chairs and umbrellas in each villa's beach locker.