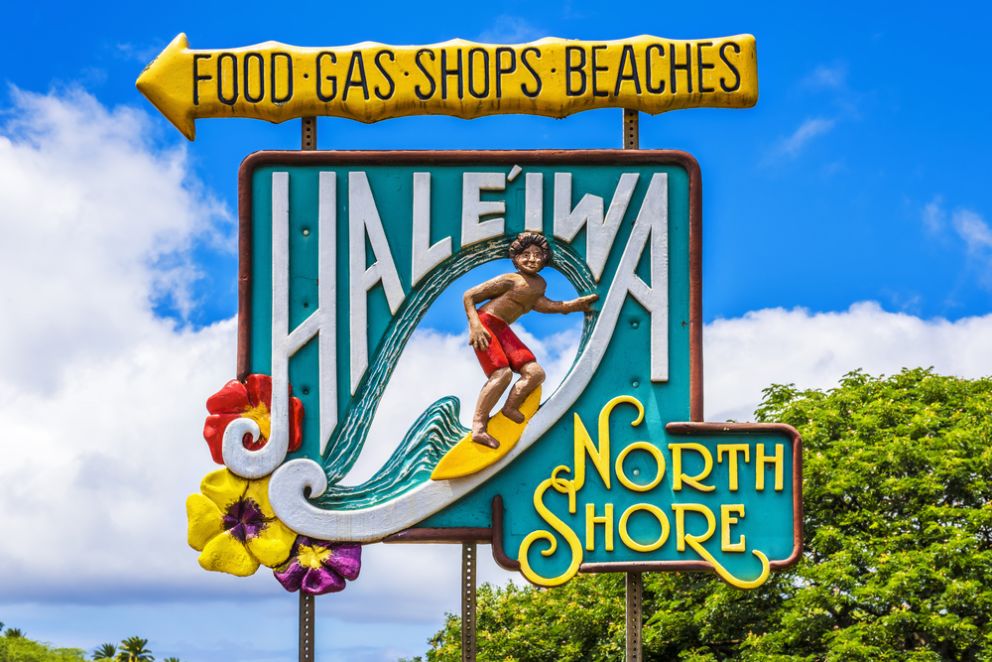 If you are visiting Oahu and think you have some extra time, please consider visiting the North Shore side of the island.
There are many spots unique to the North Shore, such as Sunset Beach, where where you can see the beautiful.. yeah, sunset, or Shark's Cove, a great snorkeling spot that is as good as Hanauma Bay, if not better, and Laniakea Beach, where sea turtles come to dry their shells.
North Shore is less developed compared to the Honolulu area, and like I just mentioned, you can see a lot of nature.
Even the most developed town of the North Shore, which is called Haleiwa, gives the retro vibe of good old Hawaii, which is a very different atmosphere from Waikiki.
Here are eight spots you have check on the North Shore.
1. Stroll Through Haleiwa Town
Haleiwa Town is the gateway to the North Shore.
There you will find plenty of local Hawaiian flavors such as Matsumoto Shave Ice, the first restaurant of the famous Kua Aina hamburgers, and Giovanni's plate lunch.
Haleiwa has an old Hawaiian landscape with nostalgic and laid-back atmosphere. Why not walk around with shave ice or acai bowl in your hand?
A lot of people talk about the shave ice from Matsumoto's, but the acai bowls at Banzai Bowls 450 feet north of Kamehameha Highway Bridge are amazing too.
Also, if you are active on Instagram, most likely you have seen pictures like this taken in Haleiwa.
From Waikiki
Driving: 1 hour
The Bus: 2 hours
Address: Haleiwa, HI 96712
2. Dive into Polynesia at the Polynesian Cultural Center
Polynesian Cultural Center in La'ie, the east end of North Shore, has been acknowledged as one of, if not the best attraction on Oahu on multiple media.
Although this place is not something that you can just stop by for 15 mins on your road trip, it has to be mentioned when talking about the North Shore.
Polynesian Cultural Center offers abundance of cultural performances and activities from all of the Polynesia, Hawaii's traditional cuisines including the Ali'i Luau, and arguably the biggest entertainment show of Oahu, the HA: Breath of Life show.
I am sharing my full experience at Polynesian Cultural Center in this article.
Official Website: Polynesian Cultural Center
From Waikiki
Driving: 1 hour
The Bus: 2 hours
Address: 55-370 Kamehameha Hwy, Laie, HI 96762
3. Fill Your Stomach at Hukilau Marketplace
Right next to the Polynesian Cultural Center is the Hukilau Marketplace which is a relatively new tourist attraction on the North Shore that was created in 2015.
There are plenty of shops, restaurants, food trucks, etc., and no admission ticket is required. You can easily drop in without having to enter the Polynesian Cultural Center.
The Pounders restaurant in the marketplace offers a wide selection of local menus such as poke, kalua pork, taro chips and garlic shrimp.
Some of you may recognize this man. He is Graham Elliot, the owner of a 2-star restaurant "Graham Elliot Bistro", and a famous TV personality. He just became the master chef at the Pounders, and has already created a lot of creative dishes at the restaurant.
You can learn more about Hukilau Marketplace in this article.
From Waikiki
Driving: 1 hour
The Bus: 2 hours
Address: 55-370 Kamehameha Hwy, Laie, HI 96762
4. Spot Sea Turtles at Laniakea Beach
Laniakea Beach (also called Turtle Beach) is famous for its high likelihood of encountering sea turtles drying their shells, thanks to the abundant seaweed growing on the offshore which attracts the animals.
Other sources say the best time of the year to see the sea turtles is during the summer, preferably from 11 am to 1 pm. Though it is probably true, I took these pictures around 5:30 pm at the end of March, so don't worry too much.
You should still avoid trying during the winter because the waves get considerably higher and the turtles do not appear as much under such condition.
Anyways, it was so cool to go down to the beach with my friends to actually run into this big sea turtle (honu) sunbathing like it's nothing. It's probably normal at this particular beach, but it reminded me how full of nature the island is.
Just remember that touching or harassing the turtles is illegal. Usually, Honu Guardian stations volunteers are present and put signs and a rope around the animals to protect them.
From Waikiki
Driving: 1 hour
The Bus: 2 hours
Address: 61-574 Pohaku Loa Way, Haleiwa, HI 96712
5. Waimea Bay Beach Park
You may have seen the beach in some photos because of the iconic jump rock that is over 30 feet high.
Even if you are like many of us who are not so passionate about jumping off of the height of a 3 story building, Waimea Bay Beach Park is still a great spot for snorkeling, swimming, boogie boarding, surfing, or anything.
The beach park comes with outdoor showers and public bathrooms, and lifeguards on duty.
As waves get pretty high in winter, which makes the North Shore famous for surfing competitions, it is very dangerous for the general public to swim.
There is a dedicated parking lot, but it fills up very quickly, especially on weekends, and spills over onto the roadway and street parking.
It's best to arrive early (before 10 a.m.) or later (after 4 p.m.) to avoid the most crowded parts of the day.
From Waikiki
Driving: 1 hour
The Bus: 2 hours
Address: 61-031 Kamehameha Hwy, Haleiwa, HI 96712
6. Snorkel at Shark's Cove
Hanauma Bay might be the most famous location for snorkeling on Oahu, but Shark's Cove on the North Shore is also a great snorkeling spot comparable to Hanauma Bay.
The water is incredibly clear because of the rocky seabed around the area, and you will be amazed how many fish you can see just 30 feet into the bay. And yes, there are turtles too.
Since there is no reefs barricading inside the bay like Hanauma, it is much easier here to access deeper water to see a school of fish right under you. I recommend you stop by during April to October when the waves are calm.
There is no admission fee, and there are facilities like showers and toilets.
You can learn more about Shark's Cove in this article.
From Waikiki
Driving: 1 hour
The Bus: 2.5 hours
Address: JWXQ+Q5, Haleiwa, HI 96712
7. Just Sit at the Sunset Beach
As the name suggests, it is a beach with a beautiful sunset over the horizon. It is not a beach park and the natural beach remains intact.
The waves are high in winter just like any other beaches on this side of the island, so there are times when only professional surfers can enter the sea.
In summer, on the other hand, the waves are calm and the water is clear, so it is also recommended for snorkeling.
In addition, there are few people in the daytime, so you can spend a relaxing time.
From Waikiki
Driving: 1 hour
The Bus: 2 hours
Address: 59-88 Kamehameha Hwy, Haleiwa, HI 96712
8. Turtle Bay Resort
Turtle Bay Resort, the largest luxury resorts on the North Shore include hotels, villas, cottages, and condominiums, with plenty of accommodation options alone. Some of you may know the resort as the filming location for the movie "Forgetting Sarah Marshall".
You don't have to be a guest to use the public beaches by the resort, play golf, ride horses, dine at the restaurants, etc., so be sure to check it out when you drive to the North Shore.
All rooms of the hotel have ocean views, and the condominiums have private pools, so guests can spend a luxurious time.
I wrote reviews on the actual hotel rooms in the articles below, so please take a look.
From Waikiki
Driving: 1 hour
The Bus: 2 hours
Address: 57-091 Kamehameha Hwy, Kahuku, HI 96731
9. Taste Local Flavors in Kahuku
Kahuku is home to garlic shrimp, which is famous as a local food in Hawaii, and has multiple shrimp trucks and stores.
Kahuku Superette's poke bowl is also famous for its deliciousness. Personally, it's the most delicious poke bowl I've ever eaten.
At Kahuku Farms, there is a cafe where you can enjoy meals using freshly harvested crops, vegetables and smoothies, and you can also enjoy a farm tour around the farm with a tractor.
Souvenirs such as jams and fruits are also recommended, so you can eat them at the hotel.
From Waikiki
Driving: 1.5 hour
The Bus: 2 hours
Address: Kahuku, HI 96731
How was it?
Haleiwa and Kahuku have a different atmosphere from Waikiki and you can feel more local.
The sunset over the sea can be seen in Waikiki in the direction (maybe it will cover the land in midsummer), but there are fewer people on the North Shore and I think the atmosphere is better.
Local foods such as Kua'aina, garlic shrimp and shave ice are also available, so be sure to check them out.