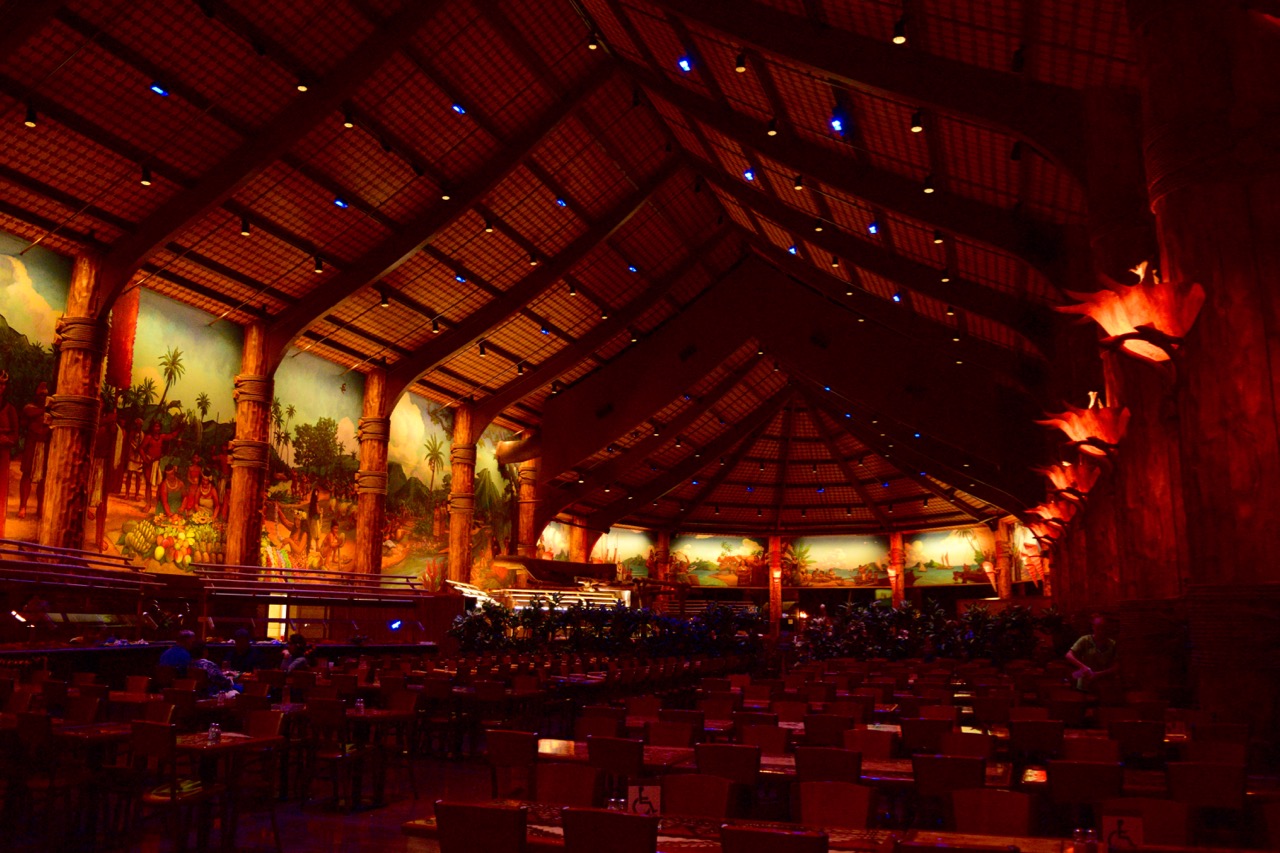 At the Polynesian Cultural Center, or PCC, there are mainly two options when it comes to dining inside the center: Gateway Buffet and Ali'i Luau.
In this article, I will introduce the Gateway Restaurant, the largest indoor dining facility in Hawaii.
This post contains affiliate links. For more information, see my disclosures here.
What is Gateway Buffet?
Although it does not have dance performance like Ali'i Luau, Gateway Restaurant welcomes hundreds of hungry guests with a Polynesian atmosphere and buffet meals.
| | Gateway Buffet |
| --- | --- |
| Food | Buffet |
| Performance | Live Music |
| Venue | Polynesian(Samoan)-style Banquet Hall |
| Hours | 16:30-19:00 (Arrive anytime) |
| Seat Level at Evening Show | Silver |
| Package | Gateway Buffet Package |
Gateway Buffet Restaurant is open from 4:30pm to 7:00pm, and it gives you a break from a day of walking around and having a lot of fun.
At the Gateway Buffet, you can just relax, enjoy their island inspired dishes and live Polynesian music, and just have a great time with your family and friends before the night show.
Dining at Gateway Buffet is included in the Gateway Buffet Package.
Dining Hall gone Completely Polynesian
Samoan Architectural Style
The Gateway Restaurant is the most prominent building in the large grounds of the Polynesian Cultural Center.
You will be in awe just entering the doors that stand 12 feet tall to see the great architecture of the dining hall.
The very high ceiling and the thick wooden pillars that support it are gorgeous, and the atmosphere takes you to the Polynesian banquet right away.
Once you start looking around, it's full-on Polynesia.
The overall architectural style is reminiscent of Samoan house "Fale", the same style as the way "Samoan Village" in the center was built.
Actually, this majestic dining hall, with 748 seats and about 24,600 square feet in size, happens to be the largest indoor dining facility in Hawaii.
While you are amazed by the size of the hall, you will also realize the "little" things that give you the most Polynesian dining experience of your trip.
The wooden tables decorated with genuine "Kapa" cloth made in Samoa, the beautiful plants in the dining hall, and those shell-shaped lamps, you name it. Oh, you get live music too.
Dining Hall with Stories
In addition, this large space is surrounded by one of the largest mural paintings in the world, with a length of 150 meters and a total area of 740 square meters.
The mural depicts the people from Polynesian countries with Hawaiian royal family "Ali'i" welcoming immigrants from overseas.
At the Polynesian Cultural Center, where you come as a visitor and experience the Polynesian culture through activities and shows, the murals are a visual complement to those experiences.
After a day of having fun at the center, you will also realize how meaningful it has been: lots and lots of exposure to different cultures, crafts, performances, and now food.
Buffet Menu
The Gateway Restaurant buffet menu was originally divided into two different menus, Island Feast and Prime Dining, which are now merged to one menu.
They offer abundance of island-inspired foods like Hawaiian Style Sweet & Sour Chicken and Panko-Crusted Local Fish, and traditional Hawaiian foods like Ahi Poke, Kalua Pork, Poi, etc.
For more details, please check out Gateway Buffet Official Menu
And yes, you will get your fried calamari, chicken wings and steak also.
Seat Level at the Evening Show
Aside from the entertainment and the venue, one thing you should remember about "Gateway vs Ali'i Luau" is the seating at the night show.
Gateway Buffet Package comes with "Silver" level seating, while Ali'i Luau Package comes with "Gold" level seating.
As you can see in the image above, "Silver" seats are either in the back or on the side.
For your reference, this picture was taken from the "Silver" level seating.
If you are OK with this seating at the night show and not so much interested in Ali'I Luau's performance, Gateway Buffet is a great option.
You will have your stomach filled with variety of Hawaiian and island-inspired food, in a venue that is also a representation of Polynesia.
How to Dine at the Gateway Buffet
Now, I hope I was able to give you a little bit of useful information about the Gateway Buffet. If you wish to dine at this place, Gateway Buffet is included in the tour package below.
Gateway Buffet Package – PCC

Self-guided experience through 6 island villages
Free 3-day pass to island villages
Gateway Buffet dinner with live music
Silver level seating at "HA: Breath of Life" evening show
For more Details, please visit PCC's official website.