Ali'i Luau Buffet at Polynesian Cultural Center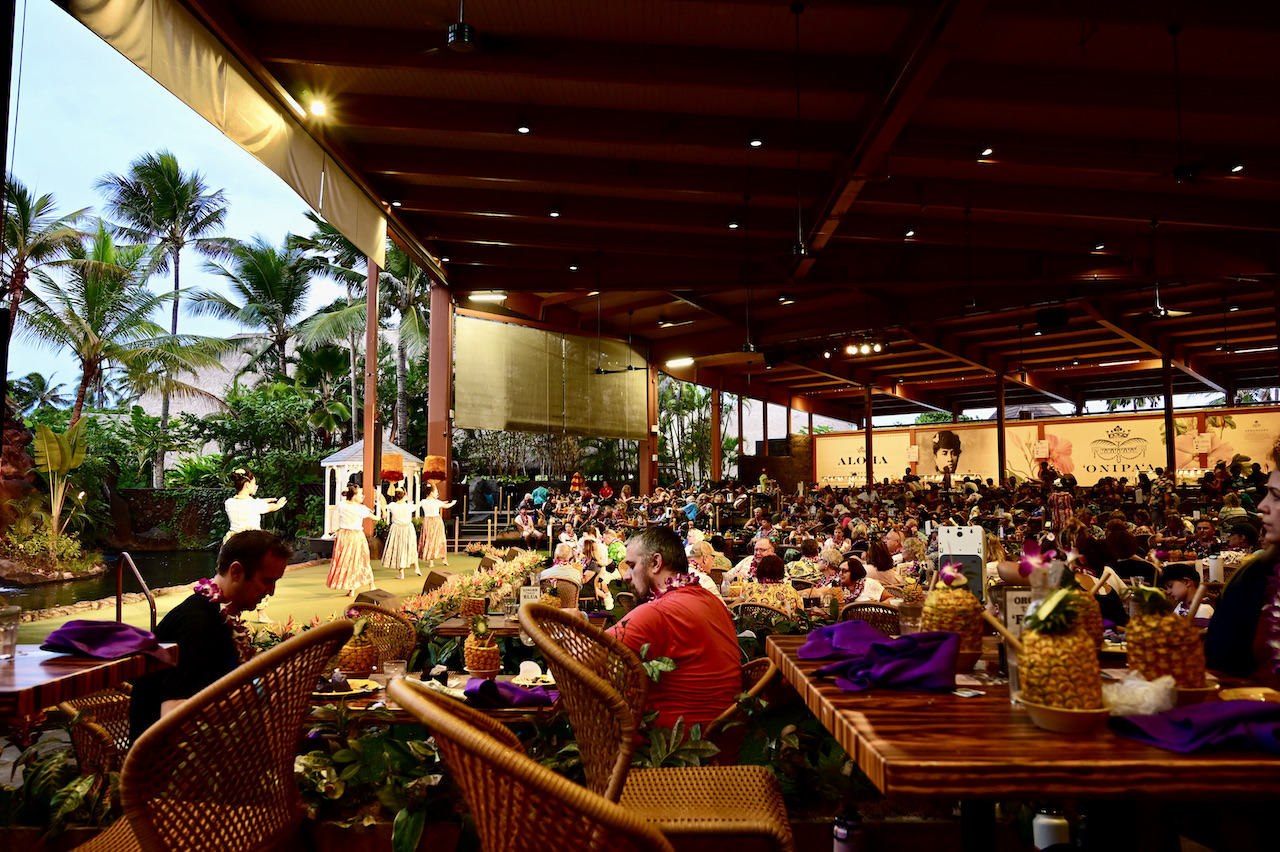 When it comes to dining in Polynesian Cultural Center, or PCC, there are mainly two options: Ali'i Luau buffet and Gateway buffet.
In this article, I will introduce the Ali'i Luau and also compare with Gateway Restaurant.
This post contains affiliate links. For more information, see my disclosures here.
What is Ali'i Luau?
"Ali'i luau", or "royal luau", is the name of the luau at the Polynesian Cultural Center, where you can watch Polynesian dance performances and fill your stomach with all-you-can-eat Hawaiian/Polynesian food.
It is held everyday at "Hale Aloha", a venue specially made for a great Luau experience, from 5:00pm to 6:30pm. (Doors open at 4:45pm)
Buffet menu consist of a variety of Hawaiian dish such as Kalua Pork, Hulihuli Chicken, Ahi (Tuna) Poke, and Poi, and the list goes on. You can also enjoy seasonal local fruit, salad bar, roasted pork and local fish at the carving station.
The luau focuses on Hawaiian hula in terms of entertainment, and other Polynesian dances like Haka, Tahitian dance, and fire knife dance will be performed at the night show, "HA: Breath of Life", the last and the biggest show in PCC.
Tour packages that include dining at Ali'i Luau are as follows.
How It Goes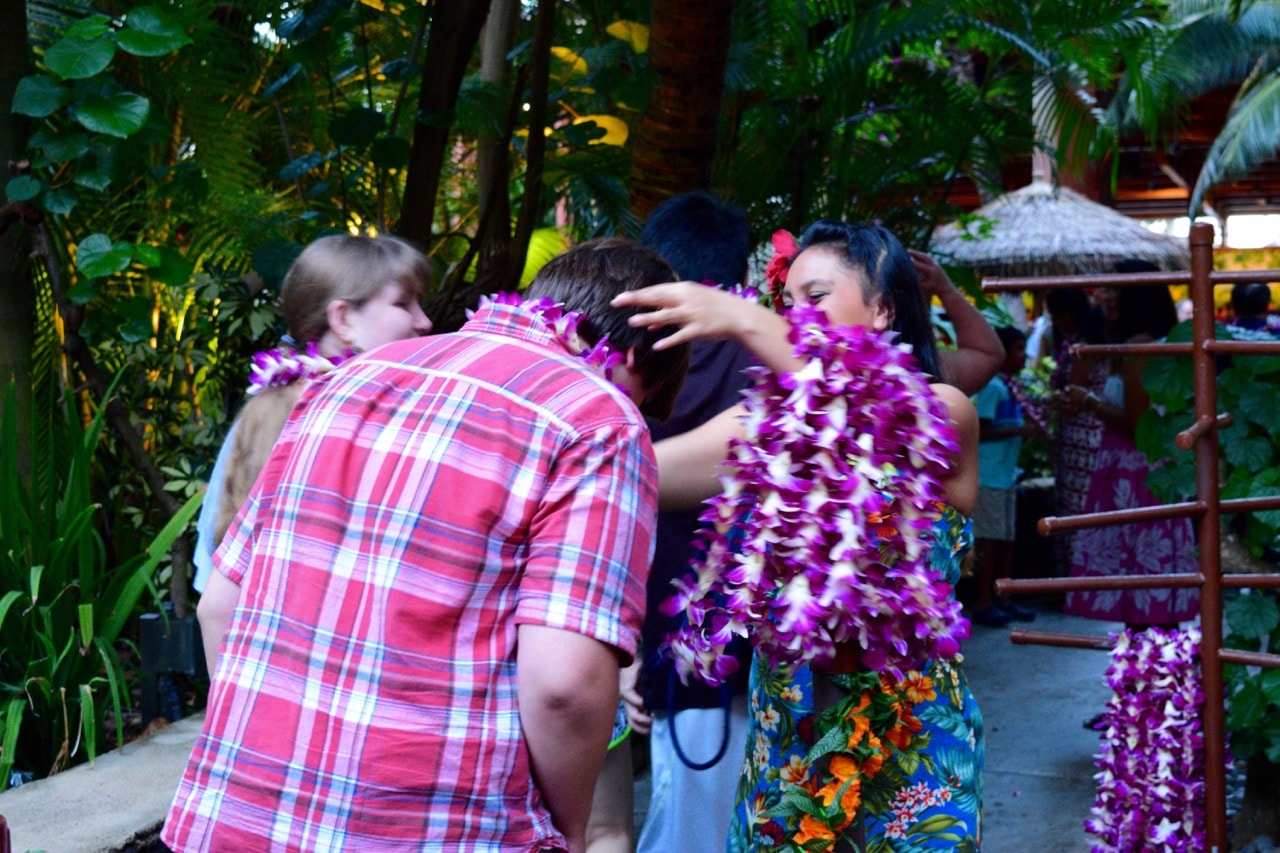 When you enter the venue, you will be greeted with a flower lei and a commemorative photo. The staff will take you to your seat.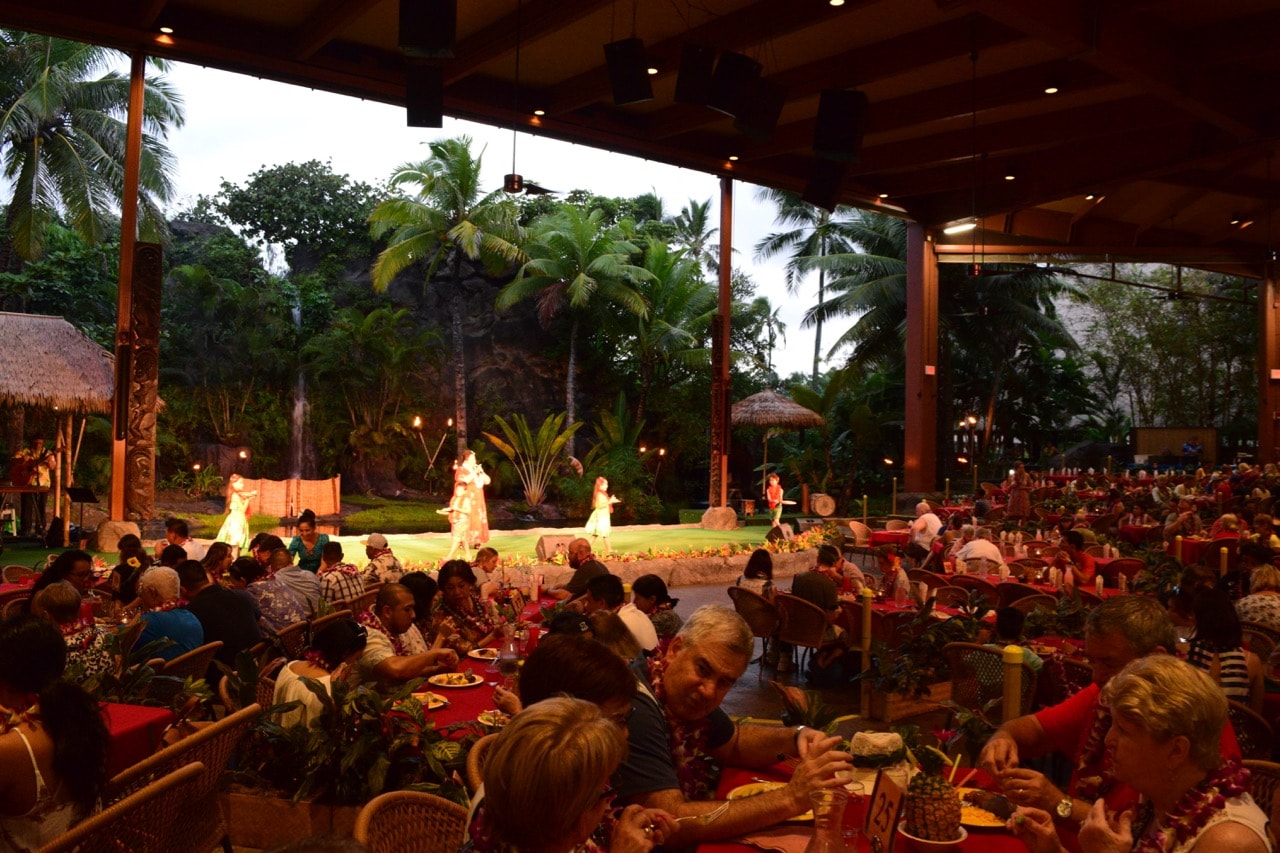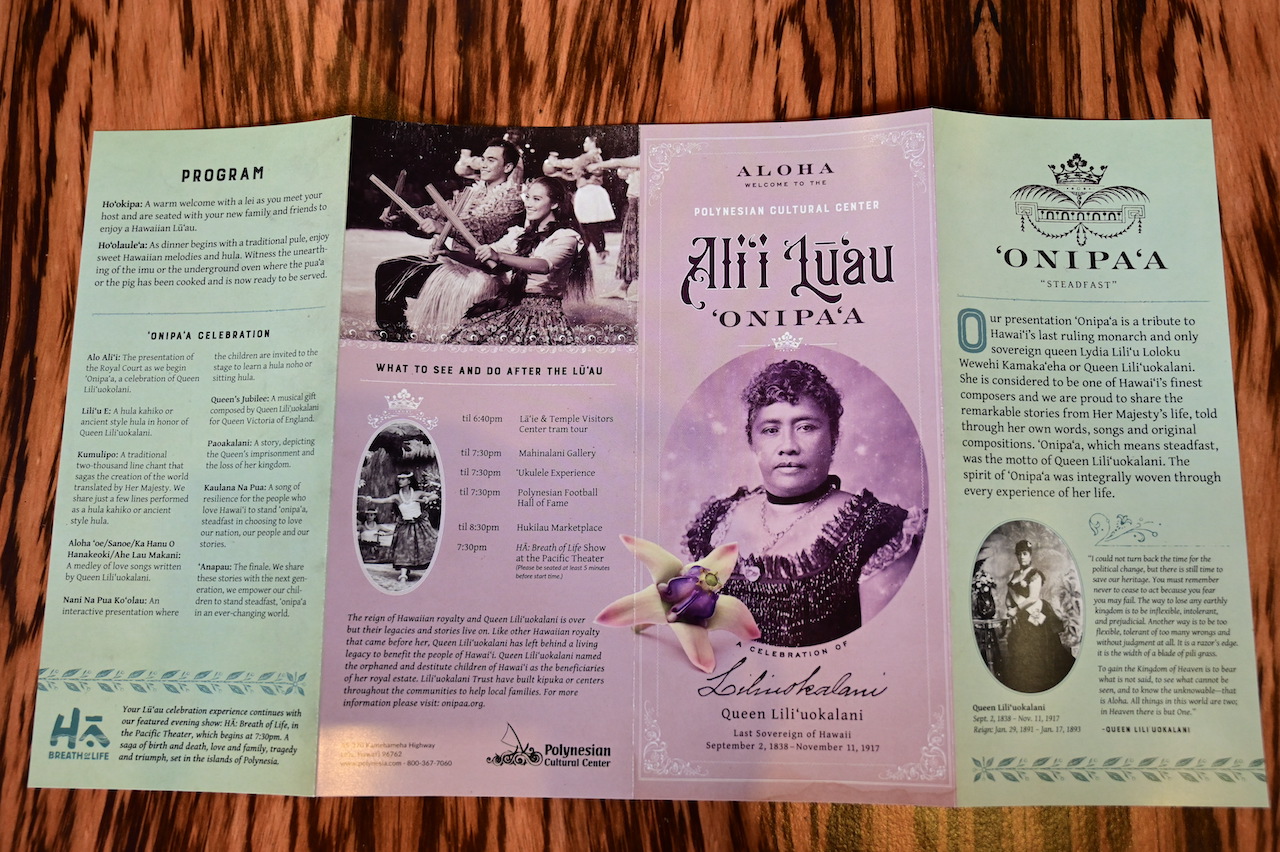 This is the pamphlet for the show.
Ali'i Luau, named "Onipa'a", is a tribute to Queen Lili'uokalani who was the last ruler of the Kingdom of Hawaii.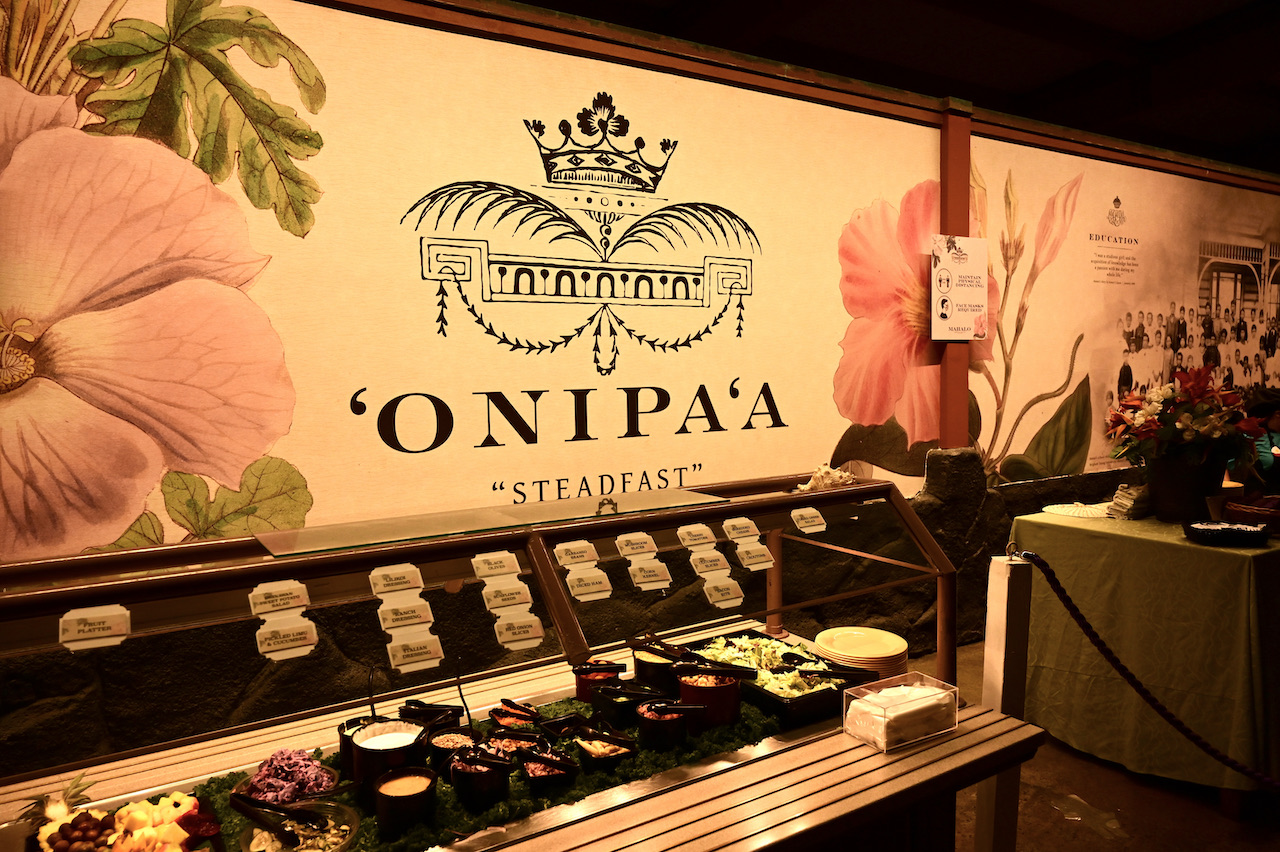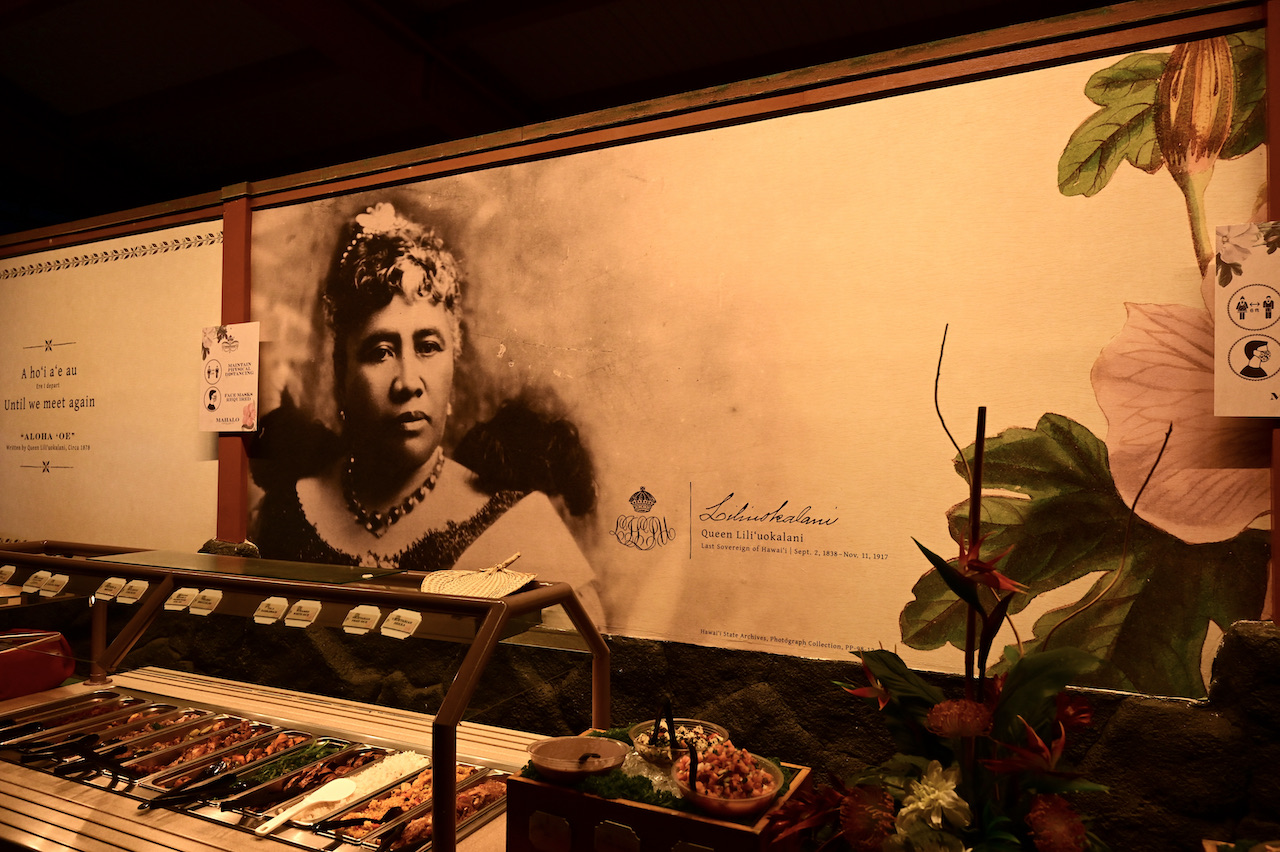 The walls tell stories of Queen Lili'uokalani with beautiful pictures.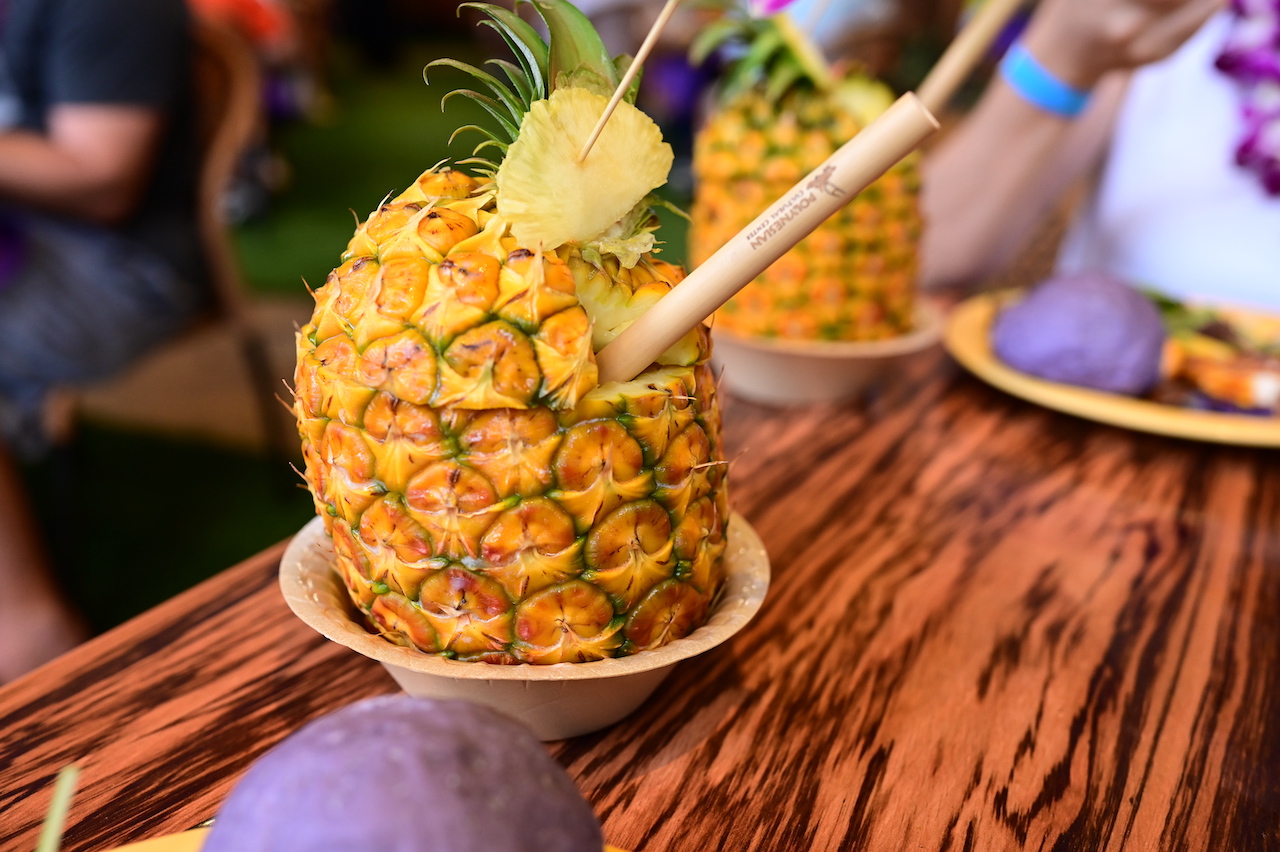 Right after seating, they gave us these cute pina colada in pineapple fruits.
I was surprised in a good way because these used to be sold separately from the buffet for about $10.
After a while, the luau will start by taking out the whole steamed pig in the underground kiln at the Imu ceremony.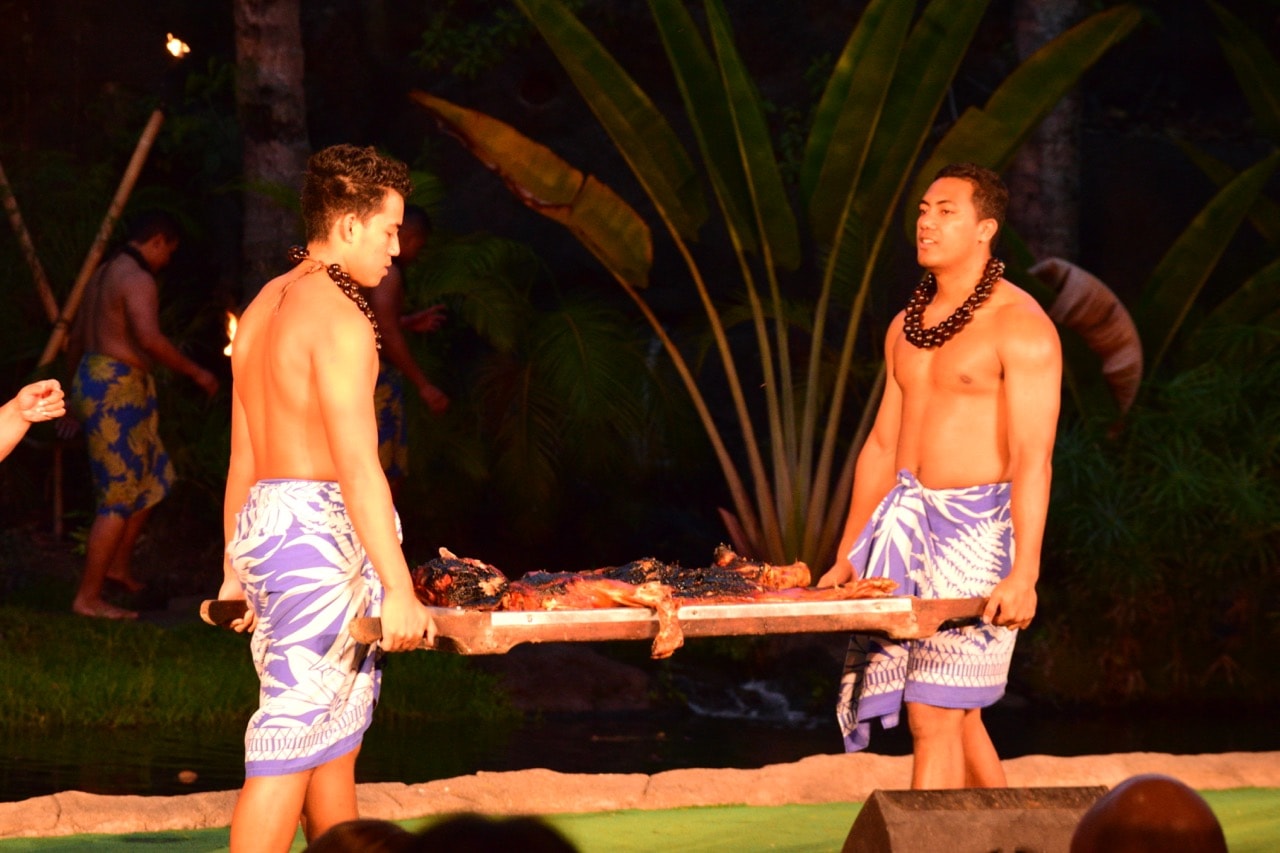 After that, the Hawaiian royal family "Ali'i" along with Queen Lili'uokalani herself appeared with the signal of the conch shell, and the show finally started.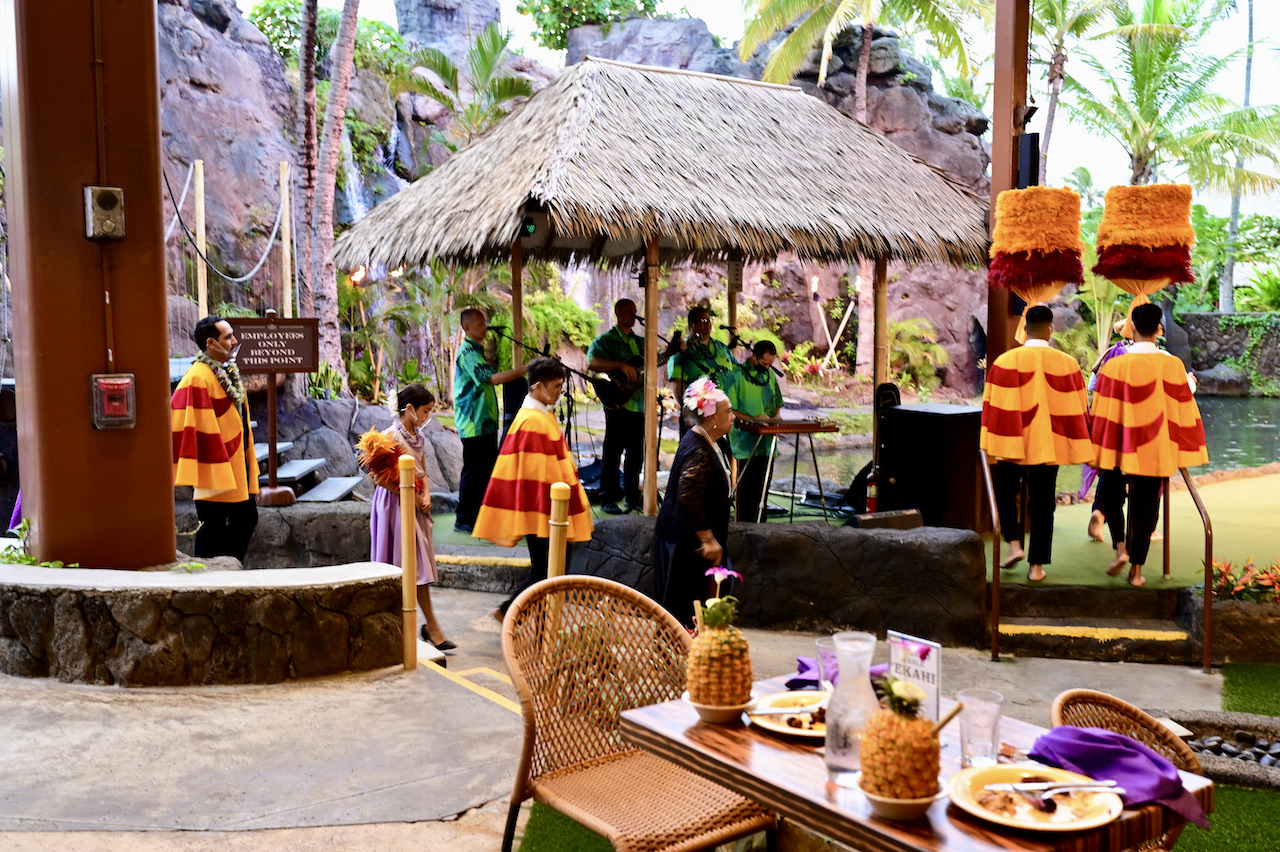 First, the dancers perform hula kahiko (classical hula), followed by Hawaiian hula, Tahitian dance, Samoa, Fiji, etc., along with live instrumental performances.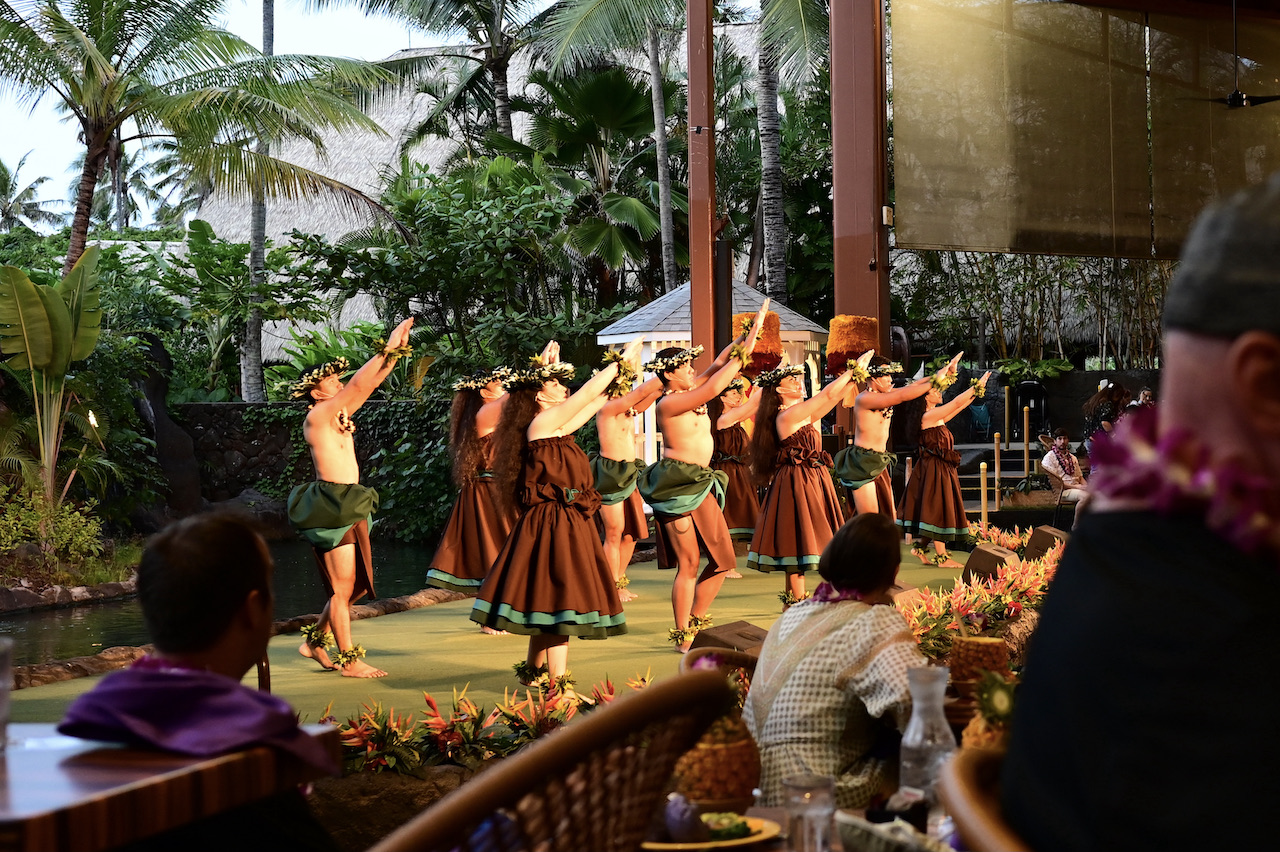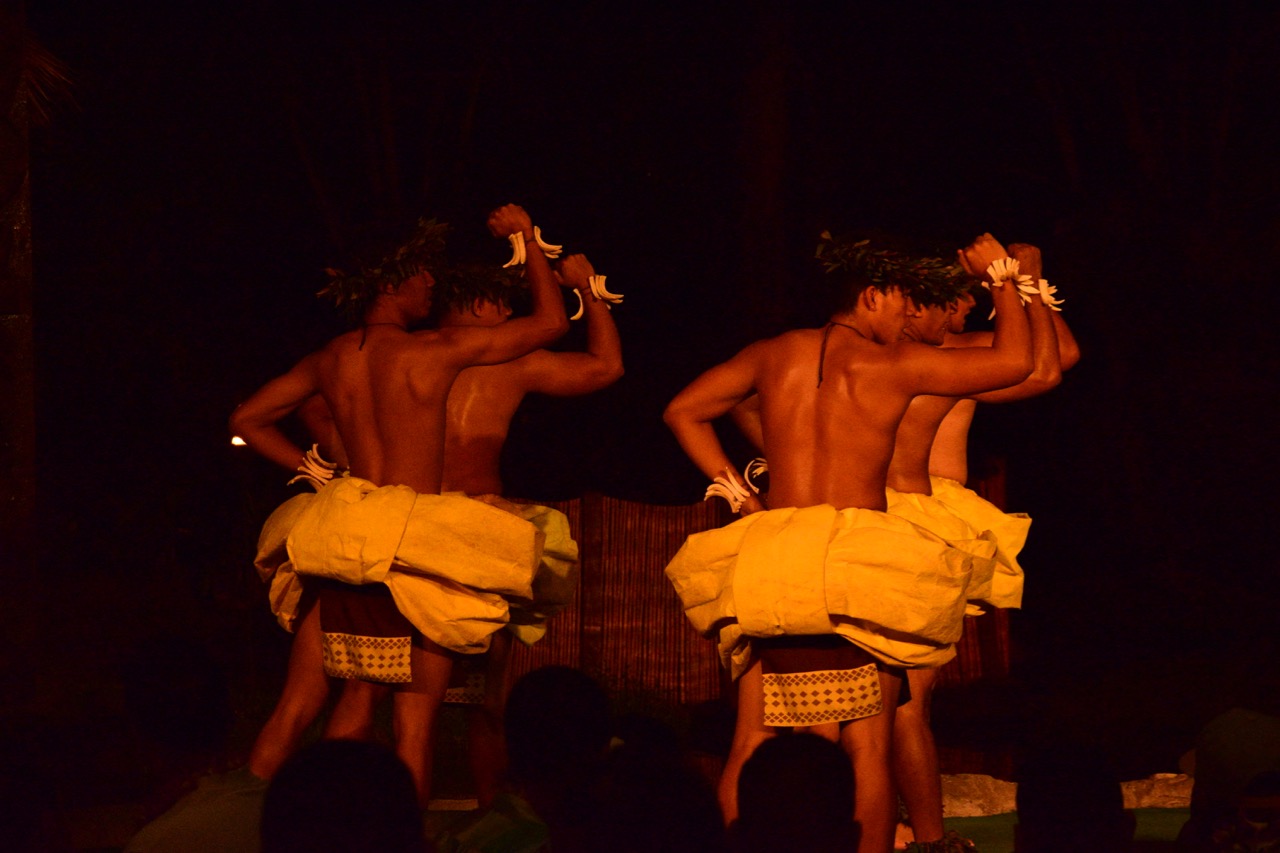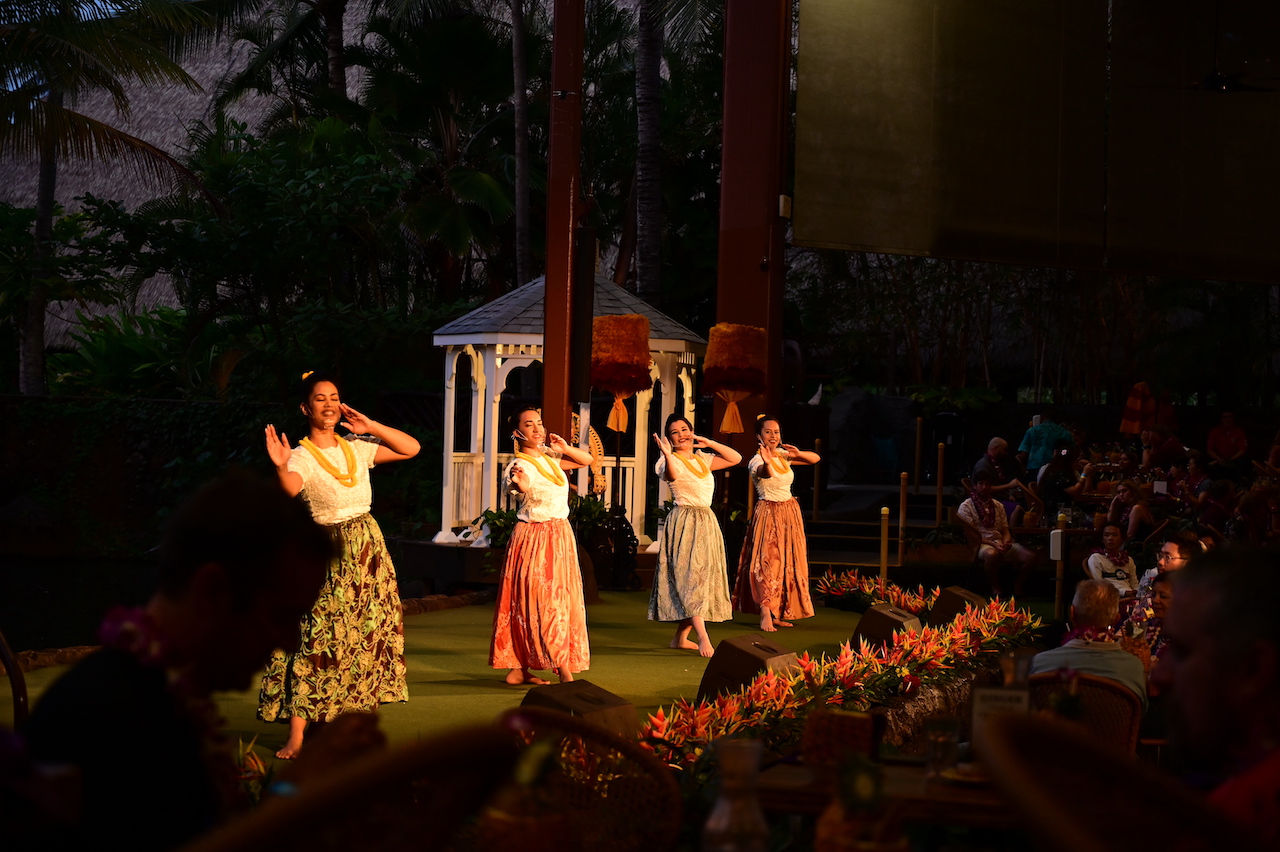 You can have a good time while resting your tired body on the daytime tour.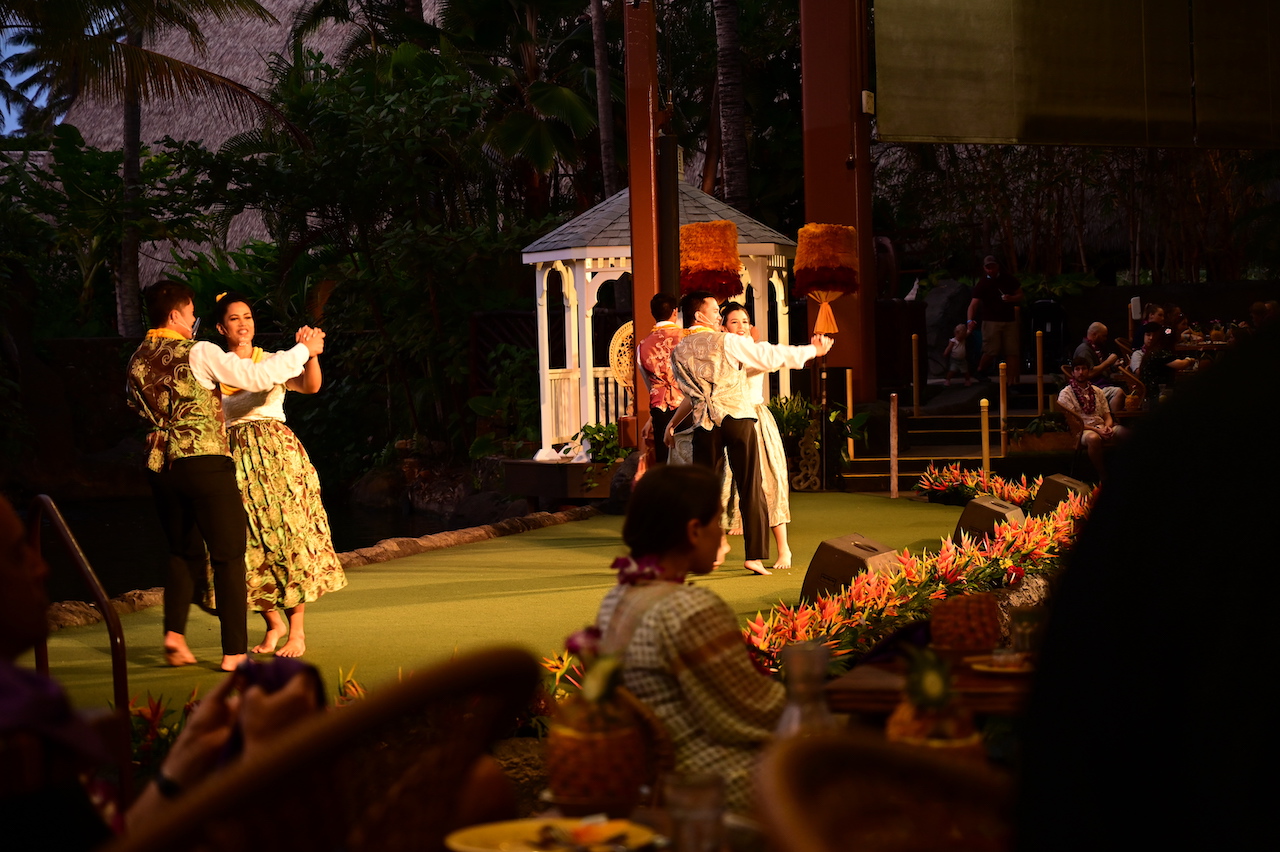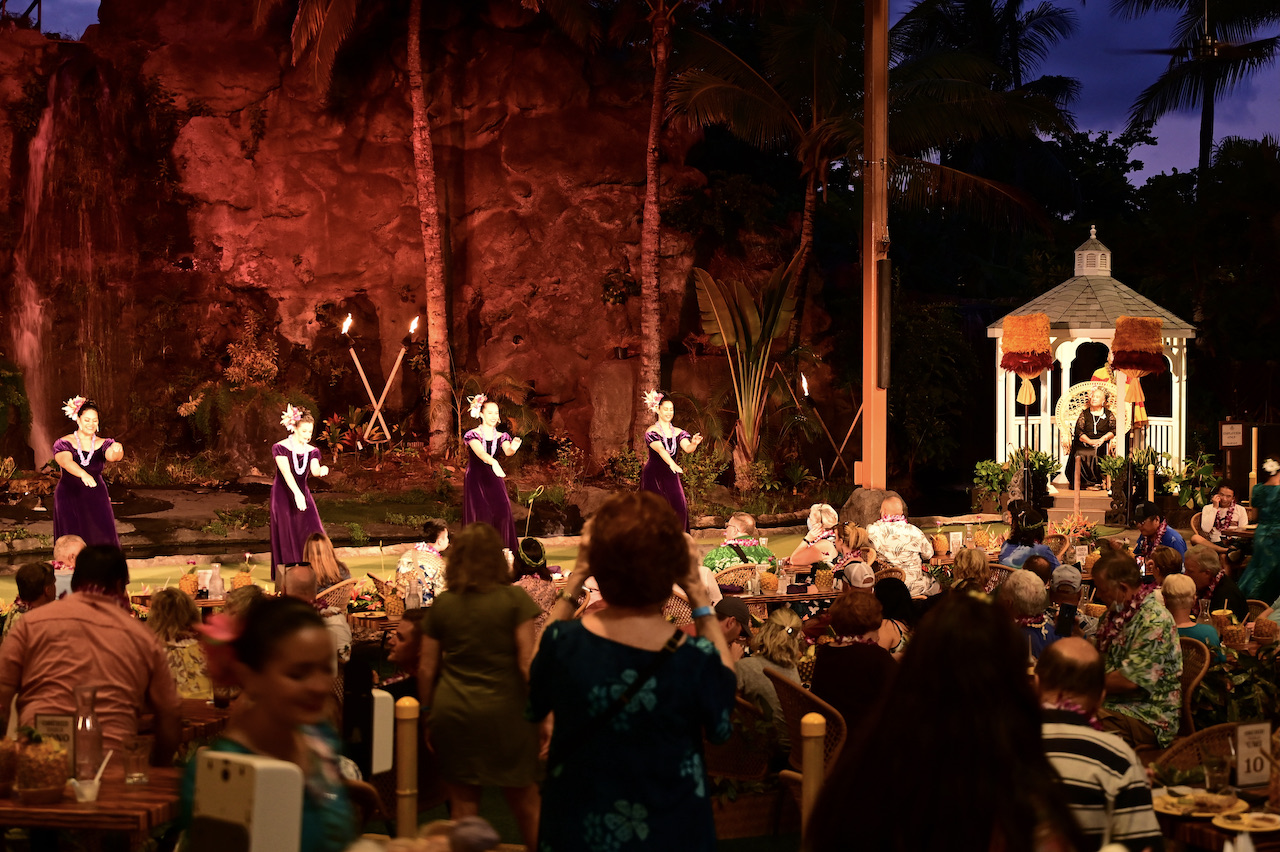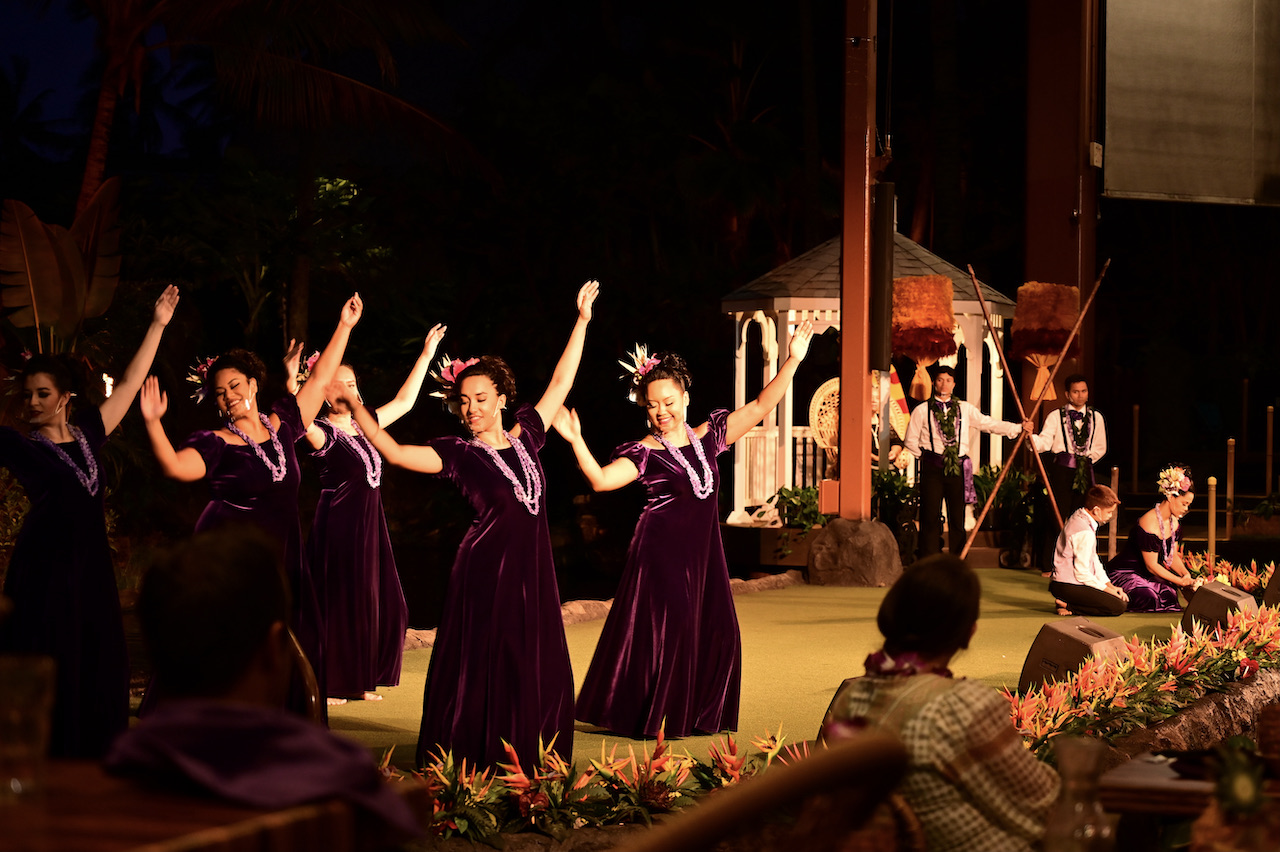 Dances from other countries like Tahitian and Haka from Aotearoa, and fire knife dance will be performed at the night show HA: Breath of Life in a much larger scale.
Food at Ali'i Luau Buffet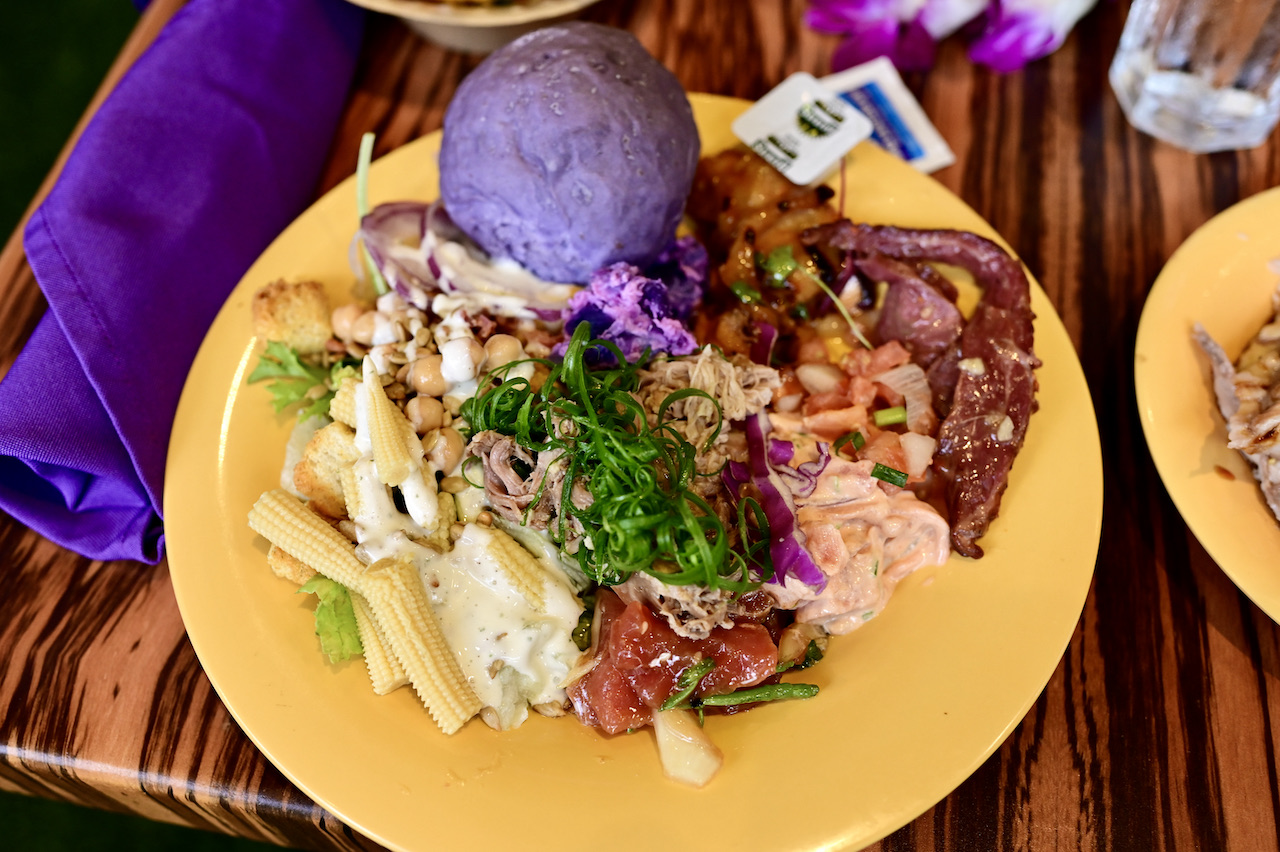 The food menu is full of traditional Hawaiian dishes and desserts, they have a large selection such as poke, lomi lomi salmon, poi, taro bread and more.
Among them, the Kalua pork, which is actually steamed in an underground oven, is a popular gem.
You can also check Ali'i Luau's latest menu here.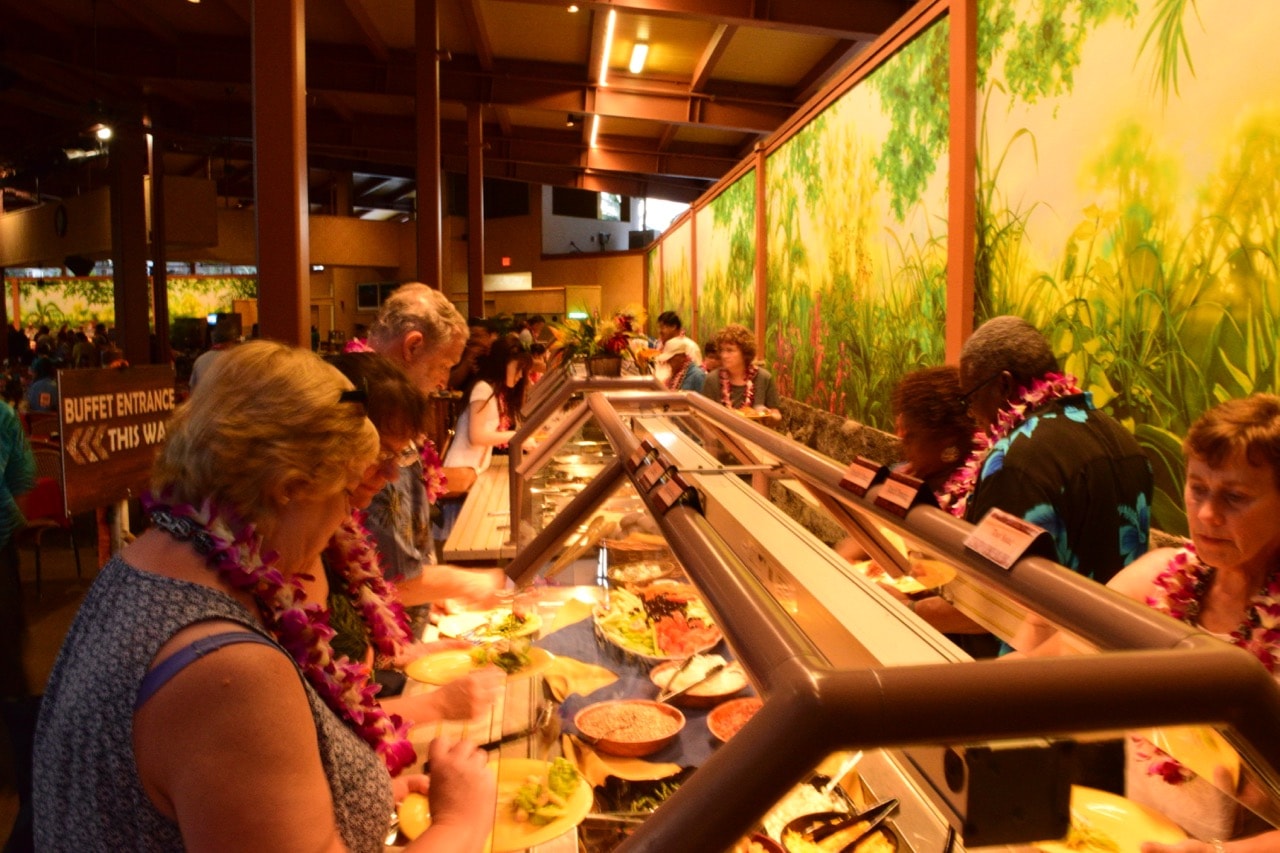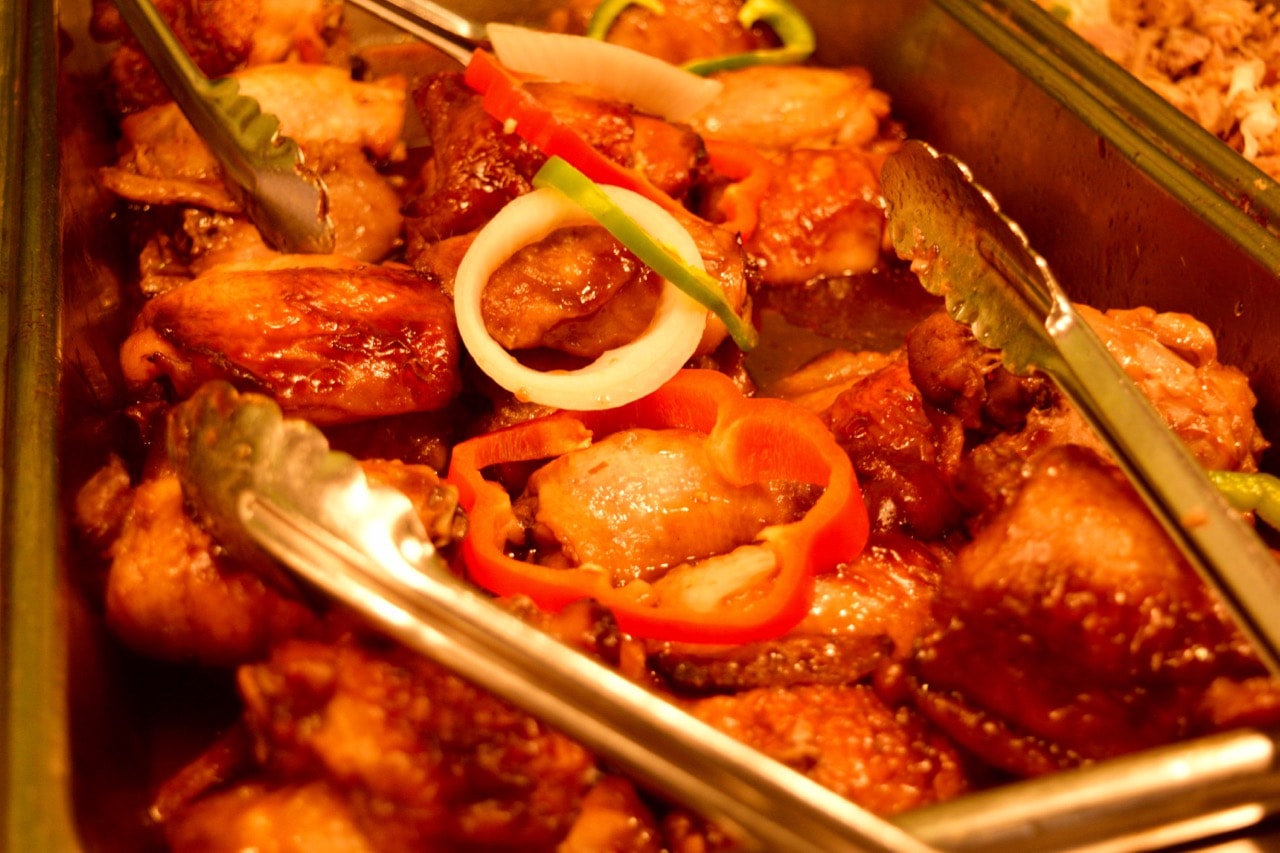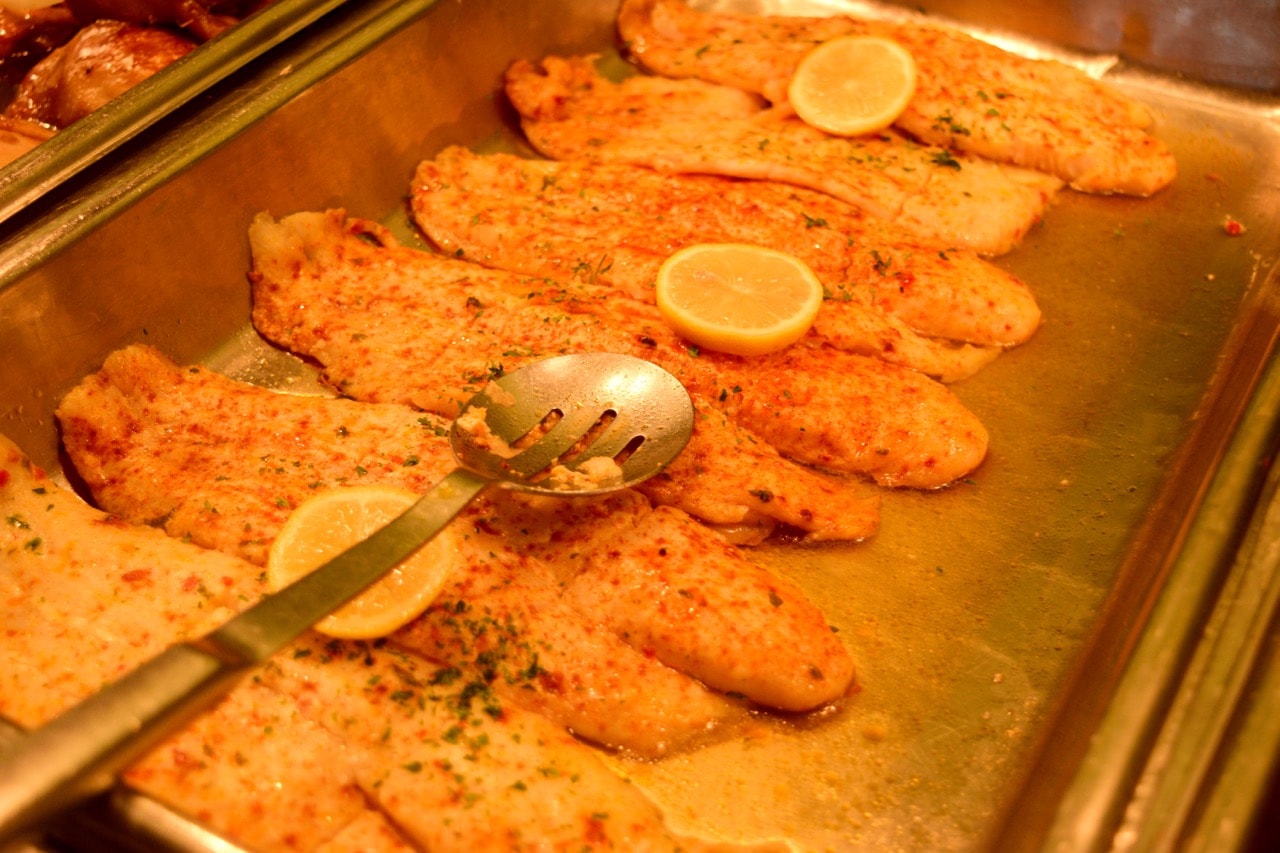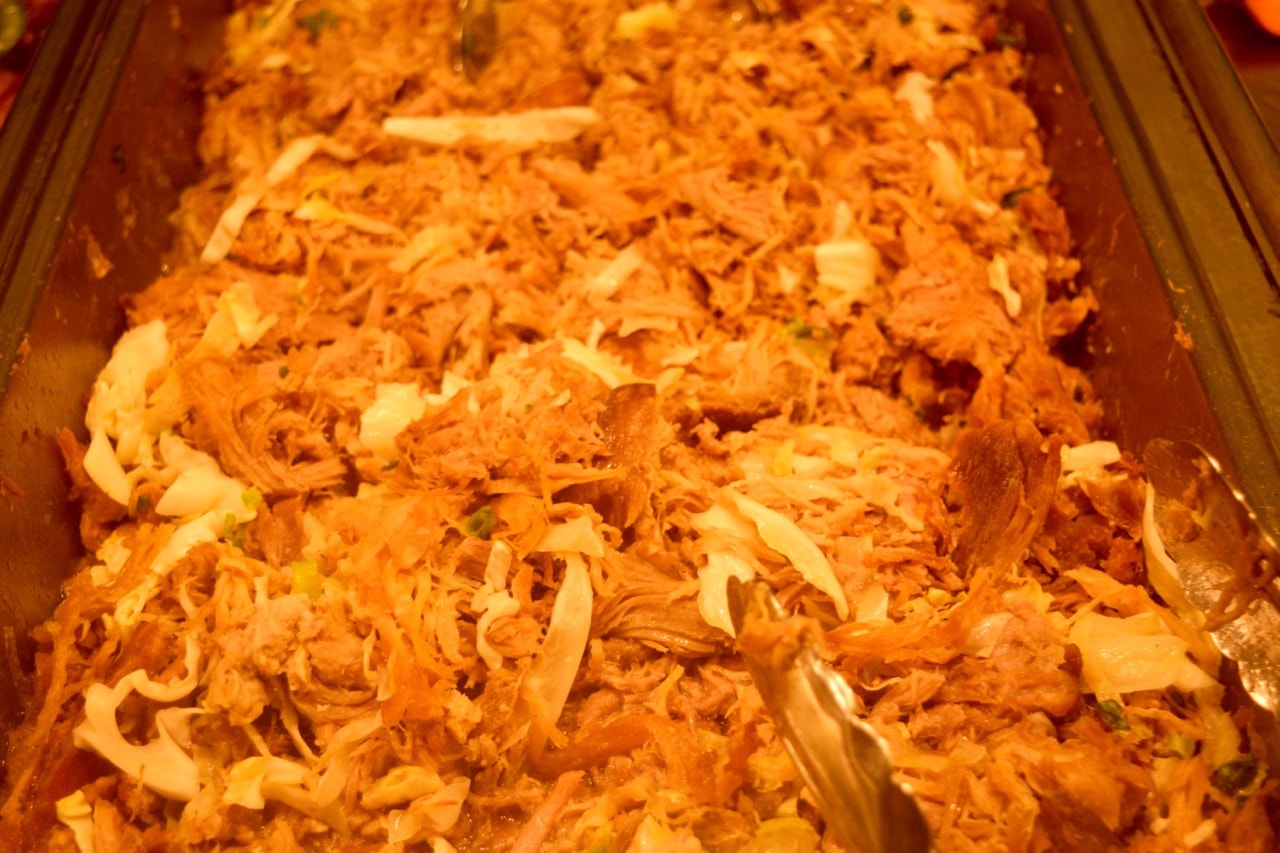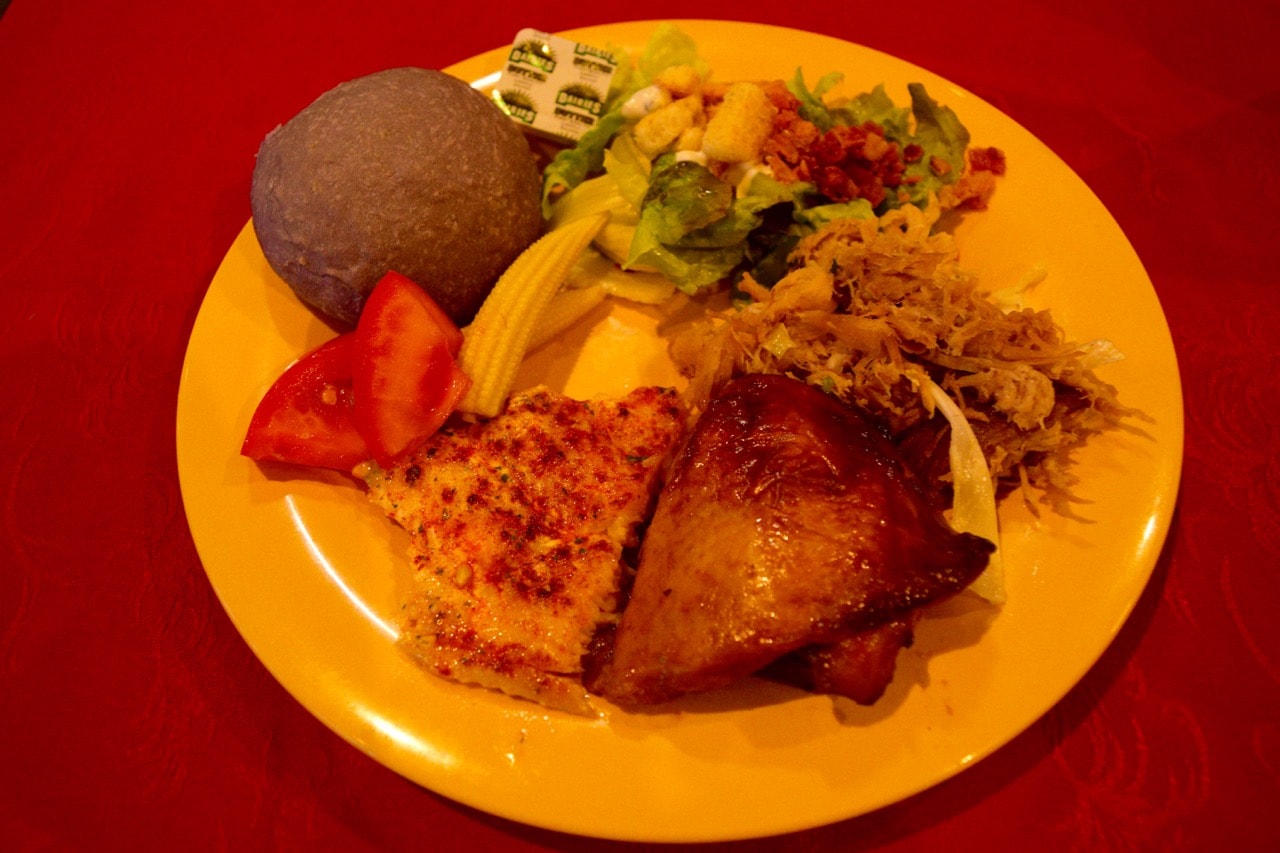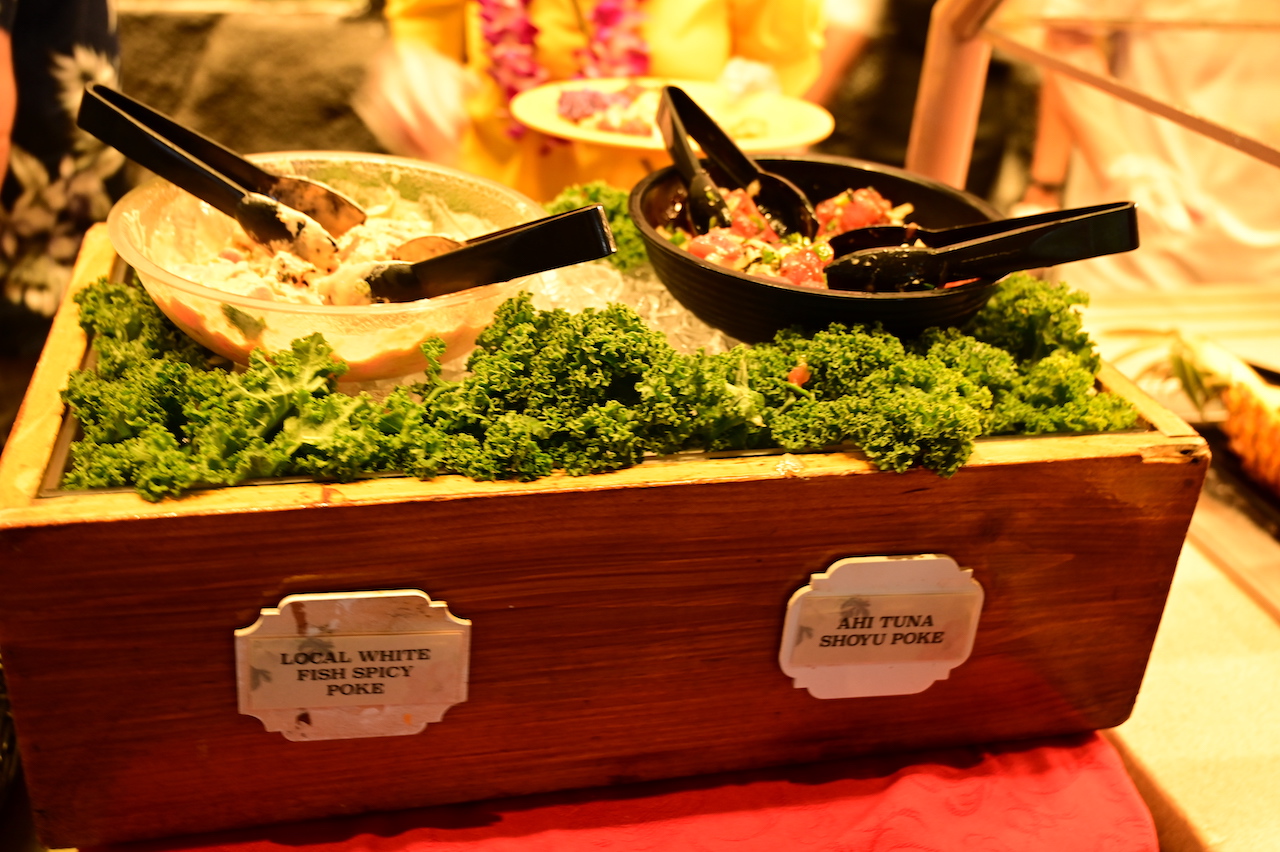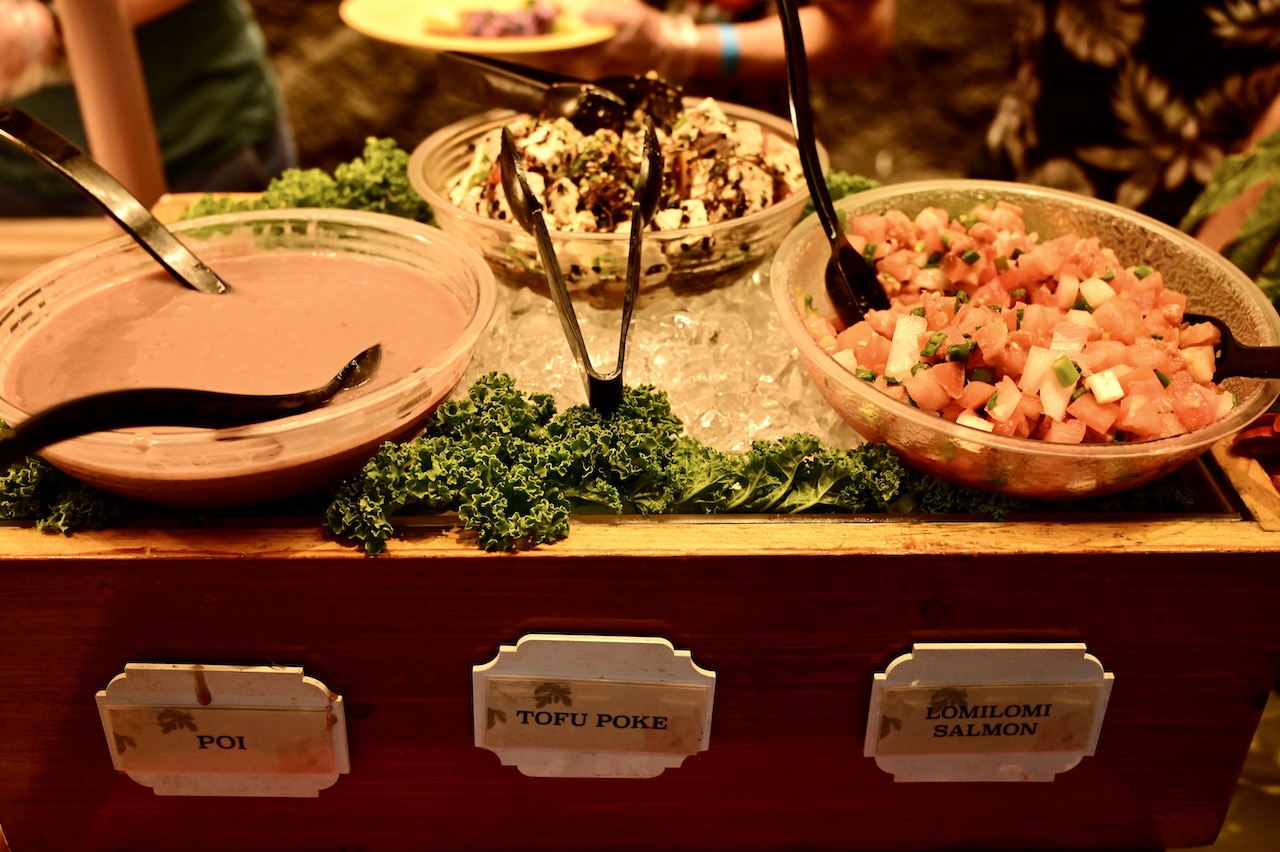 Along with Lomilomi Salmon and Poi that are common in luaus, there is Tofu Poke.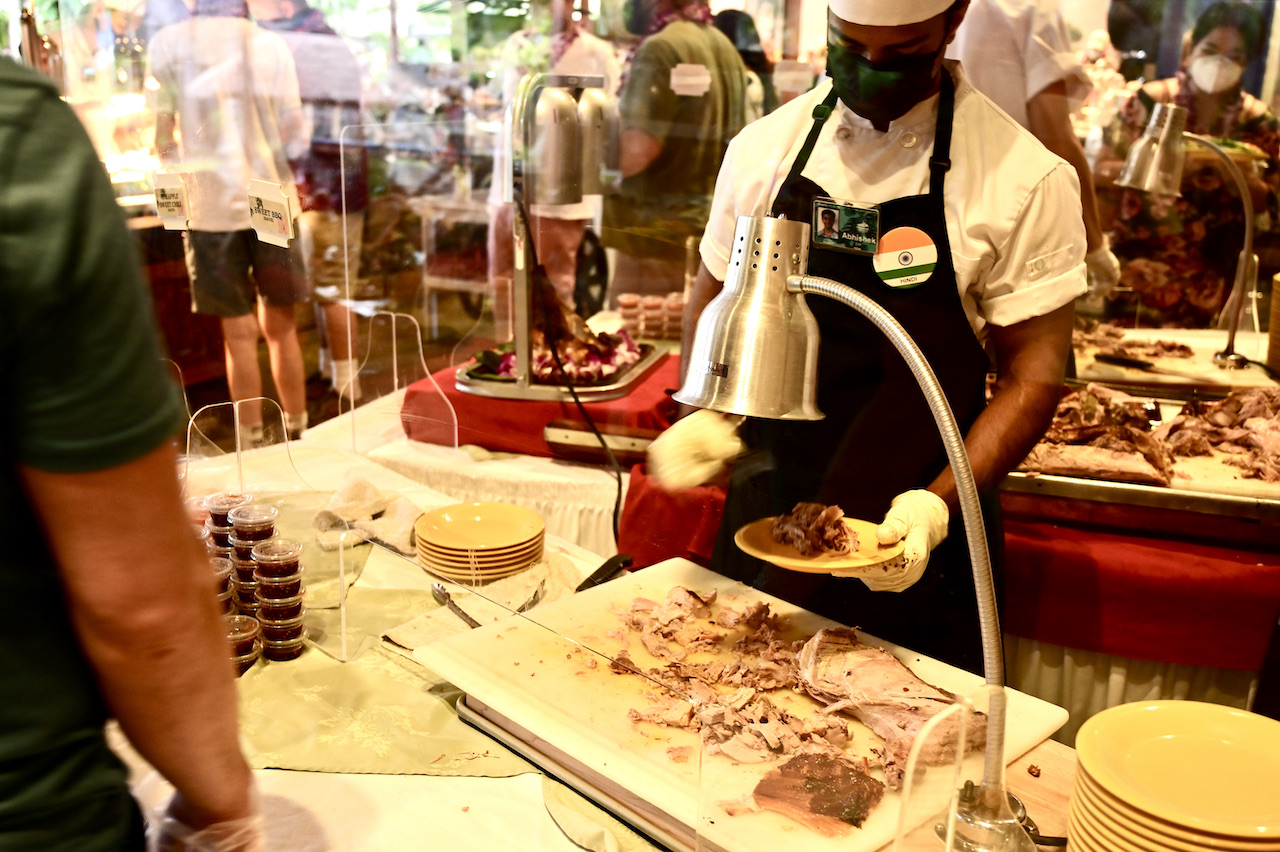 Who doesn't want some good roasted pork from the carving station?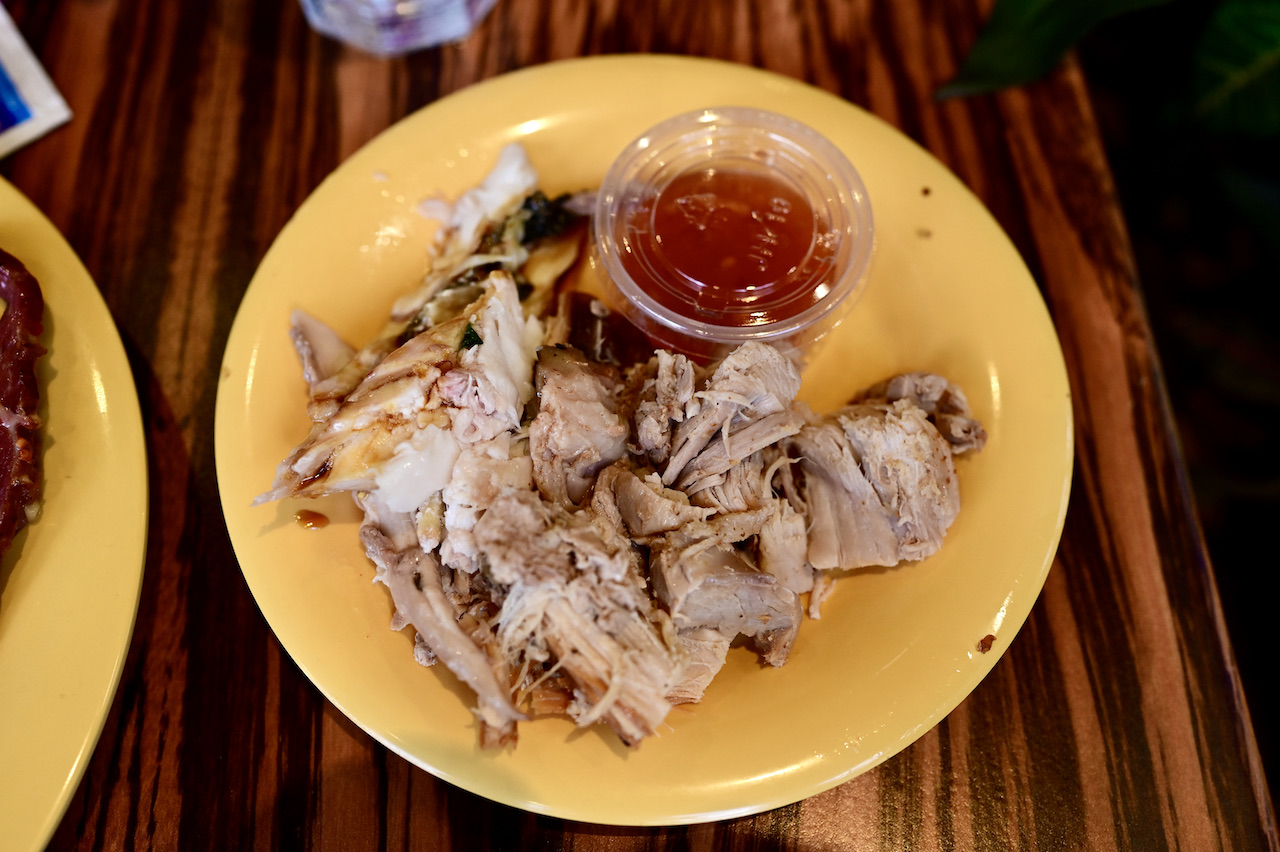 Roasted Pork and Local Fish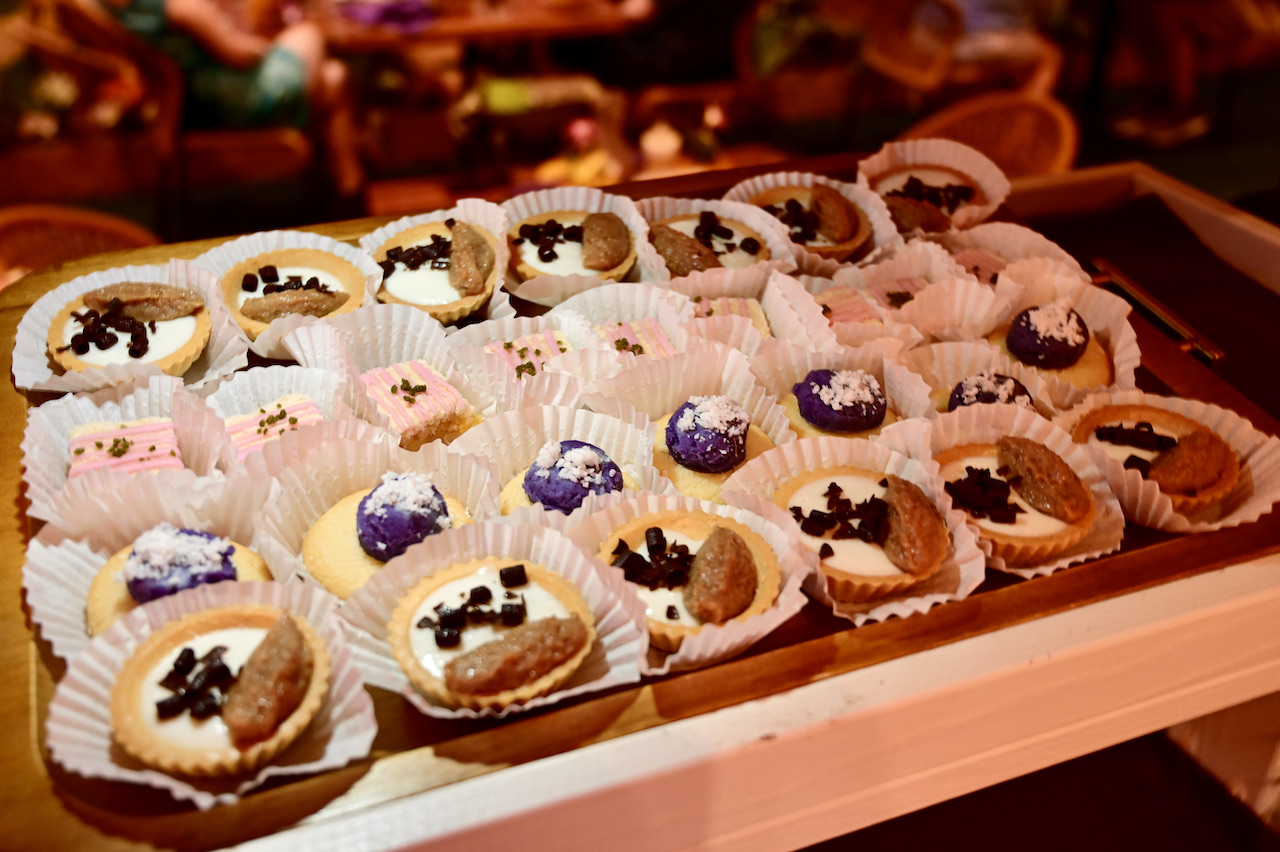 As well as the main meal, there is also a wide variety of desserts such as cakes.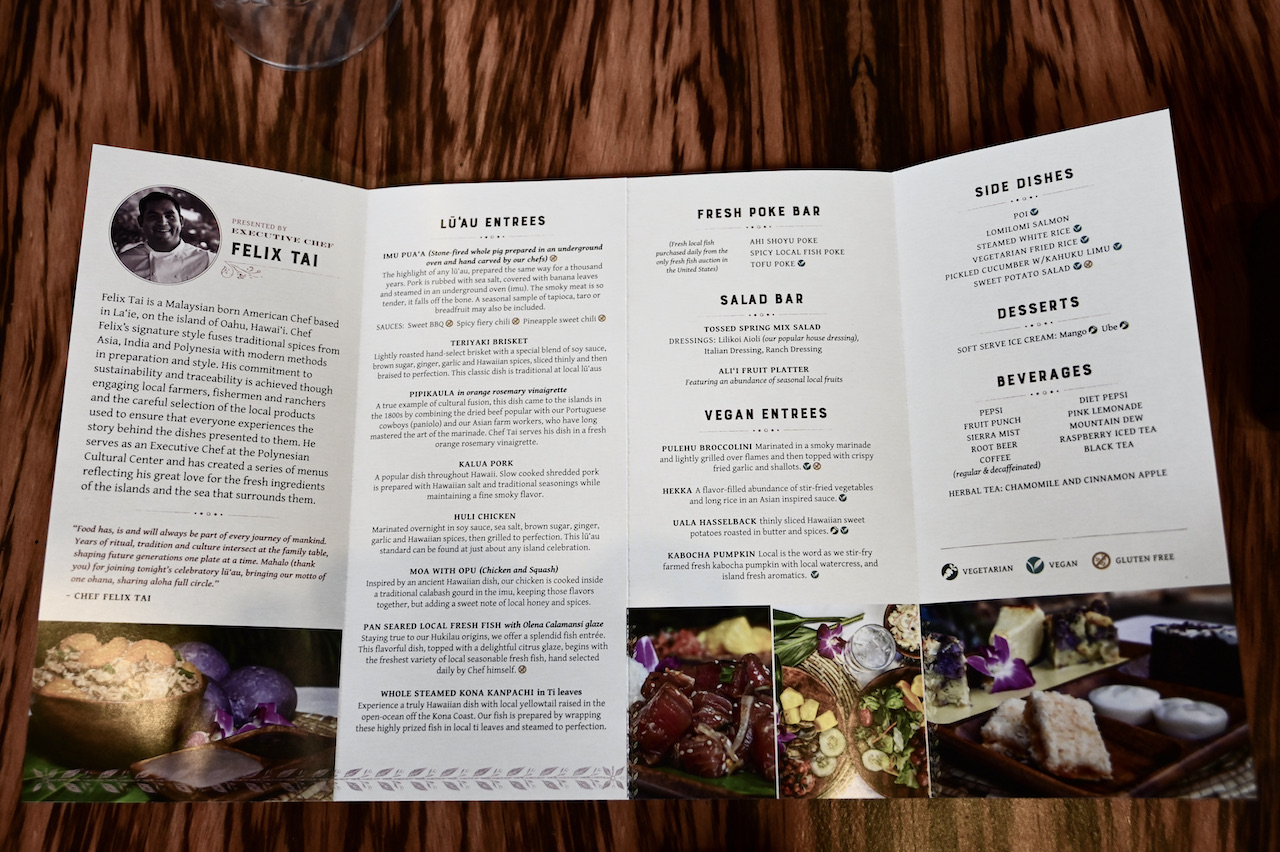 PCC had some major upgrades in their food quality in the last couple of years, and I could clearly see and taste that when I visited in 2021.
I touched on it in my another article below, so please check it out.
▶︎ Better Food – PCC Evolves in Pandemic and It Has to be Recognized
Ali'i Luau Buffet or Gateway Buffet?
When deciding if you should go for Ali'i Luau or Gateway Buffet for dining, one thing you need to remember is that you get better seats at the night show with their "Luau" packages.
While Gateway Buffet Package comes with "Silver" level seating, Ali'i Luau Package comes with "Gold" level seating. Super Ambassador Luau Package offers "Platinum", if you are going for a private guided tour during the day.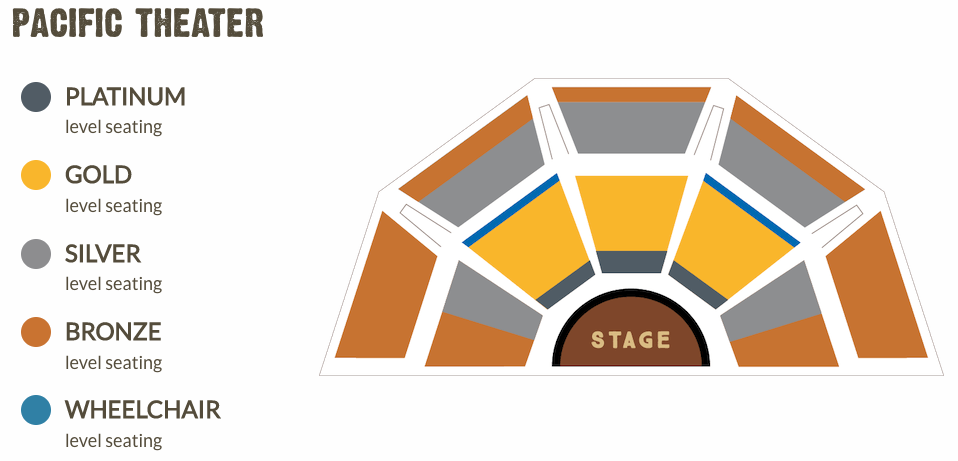 As you can see in the image above, you get closer seats and good angles with "Gold" and "Platinum", the seats for "Luau" packages.
With the Gateway Buffet Package, you are either on the side or a bit farther from the stage.
So, I'd say go for Ali'i Luau if you want as much good Polynesian entertainment as you can, and my personal choice would be the same. If you are going to PCC, you might as well experience everything they have to offer you.
Ali'i Luau vs The Night Show
You might be thinking "What's the point of watching dance performances twice, at the luau and the night show?".
Well, Ali'i Luau focuses on and elaborates different styles of Hawaiian hula and works of Queen Liliuokalani, while the night show includes performances of different Polynesian Islands such as New Zealand Haka, Tahitian dance and fire knife dance, at a much bigger scale with many more performers.
I have been to PCC multiple times and been at the luau and the night show multiple times, and I can say they are completely different experiences with different contents at different venues and scales, especially with the current "Onipa'a" show at the luau.
Packages with Ali'i Luau
So, hopefully you now have some idea what it is like to dine at the Ali'i Luau. You can enjoy Ali'i Luau in the packages below.
Ali'i Luau Package – PCC

Group guided tour through 6 island villages
Free 3-day pass to island villages
Gold level seating at "HA: Breath of Life" show

Super Ambassador Luau Package – PCC

Private guided tour through 6 island villages
Free 3-day pass to island villages
Platinum level seating at "HA: Breath of Life" show

Reserved seating at all village presentations
Reserved Canoe tour
Here are links you might want to check out to learn more about PCC.