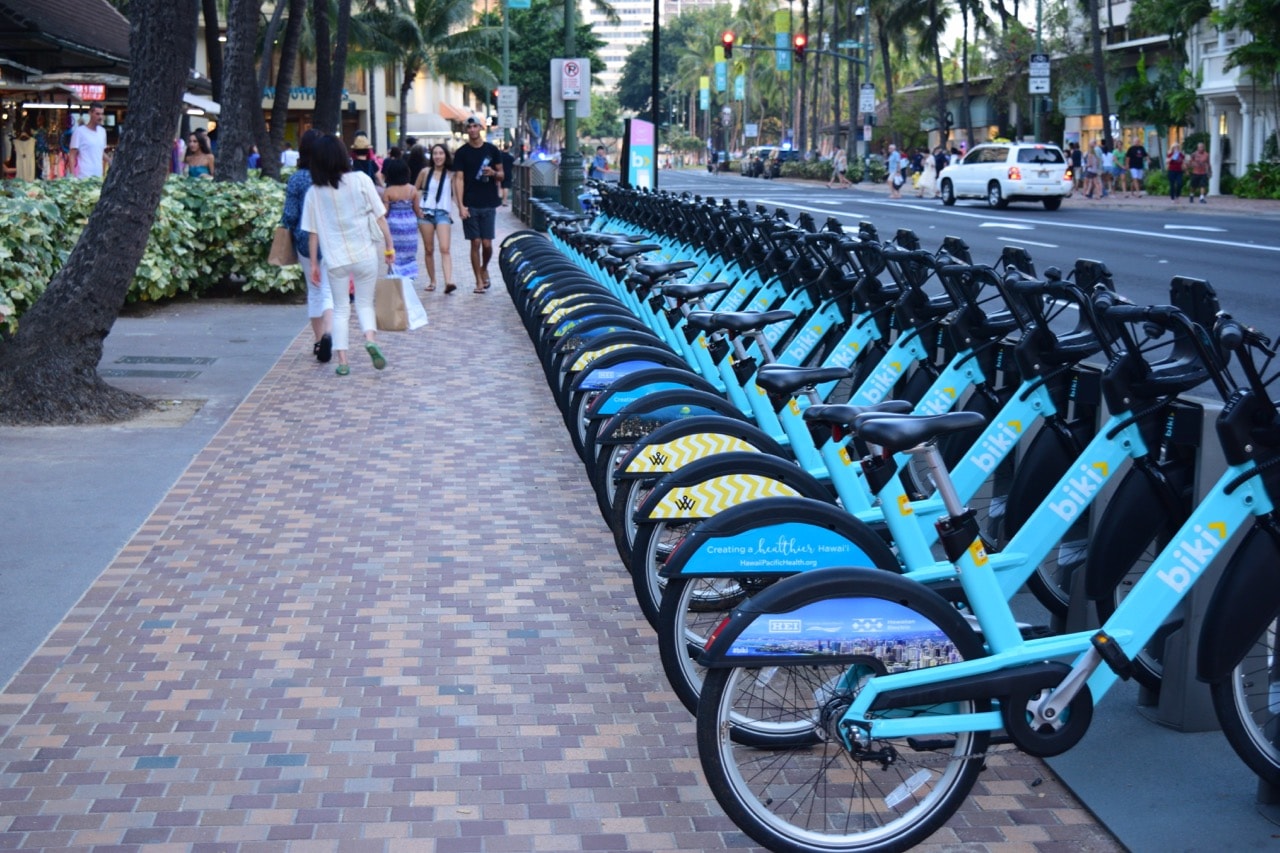 Did you know that an unmanned rental cycle started in Waikiki?
As you walk along the street in Waikiki, you will find beautiful blue bikes lined up. This is the bike sharing service "biki".
There are many "biki docks" where you can rent and return bicycles throughout Waikiki, downtown, and near Diamond Head. Because it is very convenient, I will introduce the price and usage!
1. Plans and Fees
There are three plans: "One-Way", "The Jumper" and "Multi-Stop".
| | | |
| --- | --- | --- |
| Plan | Price | Description |
| One-Way | $4.50 | One ride up to 30 minutes. |
| The Jumper | $12 | Unlimited rides for 24 hours, each up to 30 minutes. |
| Multi-Stop | $30 | 300 prepaid minutes (5 hours) for 1 year. No restriction for minutes per ride. |
I think for most tourists, either "One-Way" or "The Jumper" would be sufficient.
If you are just going to get some food and come back, pick "One-Way". If you think you will be cycling around and will be commuting between multiple locations in one day, pick "The Jumper". Just to give you an idea, if you go from inside to outside of Waikiki by bike, that is 20 minutes right there.
If you will be back to the island a few times within a year, or have a long (I mean hours of) cycling trip planned but want to use the little "biki" bike, then pick "Multi-Stop".
2. "biki" Dock Locations
As shown in the map above, biki docks are installed not only in Waikiki (the pink part) but also in downtown and Ala Moana.
3. Let's Actually Rent
Now, this machine equipped right the biki dock is where you pick your plan and make payments.
First, touch the screen and tap "Buy a Pass".
Then select the number of bicycles to rent.
Choose your plan, but as I mentioned earlier, you can only rent multiple units with a single credit card.
Tap "I accept the conditions" at the bottom right of the screen
Insert your credit card into the slot on the bottom and pull it out.
Enter your phone number and tap "Submit"
A screen for entering the postal code will be displayed, but you can tap "Skip" here.
In addition to a $ 50 temporary security deposit, a single ride will automatically add $ 3.50 every 30 minutes over time.
Check the amount and tap "Finalize"
The 5-digit code number required to use the bicycle will be displayed. Tap "Print".
Enter the number with the button on the bicycle dock. If you make a mistake and the red lamp shines, you can enter it again.
When the correct number is entered, the yellow → green lamp will light. When the blue lamp lights, pull out the bicycle.
Once you get to the biki dock near your destination, you can plug your bike into an empty dock!
4. Few Points to Keep in Mind
Riding on the sidewalk is prohibited

It is forbidden to drive a bicycle on the sidewalk, so when you cross the sidewalk, get off the bicycle and push to walk.

Right-hand traffic

The road is always on the right. There are bike cranes with bicycle marks in most places.

Be careful when turning left

Direct left turn is prohibited, so if you want to make a left turn, once you cross the road in the direction of travel and then turn left, you can always be in the right lane of the road. In short, it is a two-step left turn.

Beware of one-way streets

Some places are one-way streets. Keep in mind that Kalakaua Street is also a one-way street from Ala Moana to Kapiolani Park.
Be careful when returning to Waikiki, as Monsarat Avenue is also one-way through the Honolulu Zoo to Diamond Head. When you see the zoo site on the right, turn right onto Pakia Avenue and head towards Kuhio Street.
If you break these rules, you will be fined, so be careful. In addition, please enjoy cycling while referring to the following site!