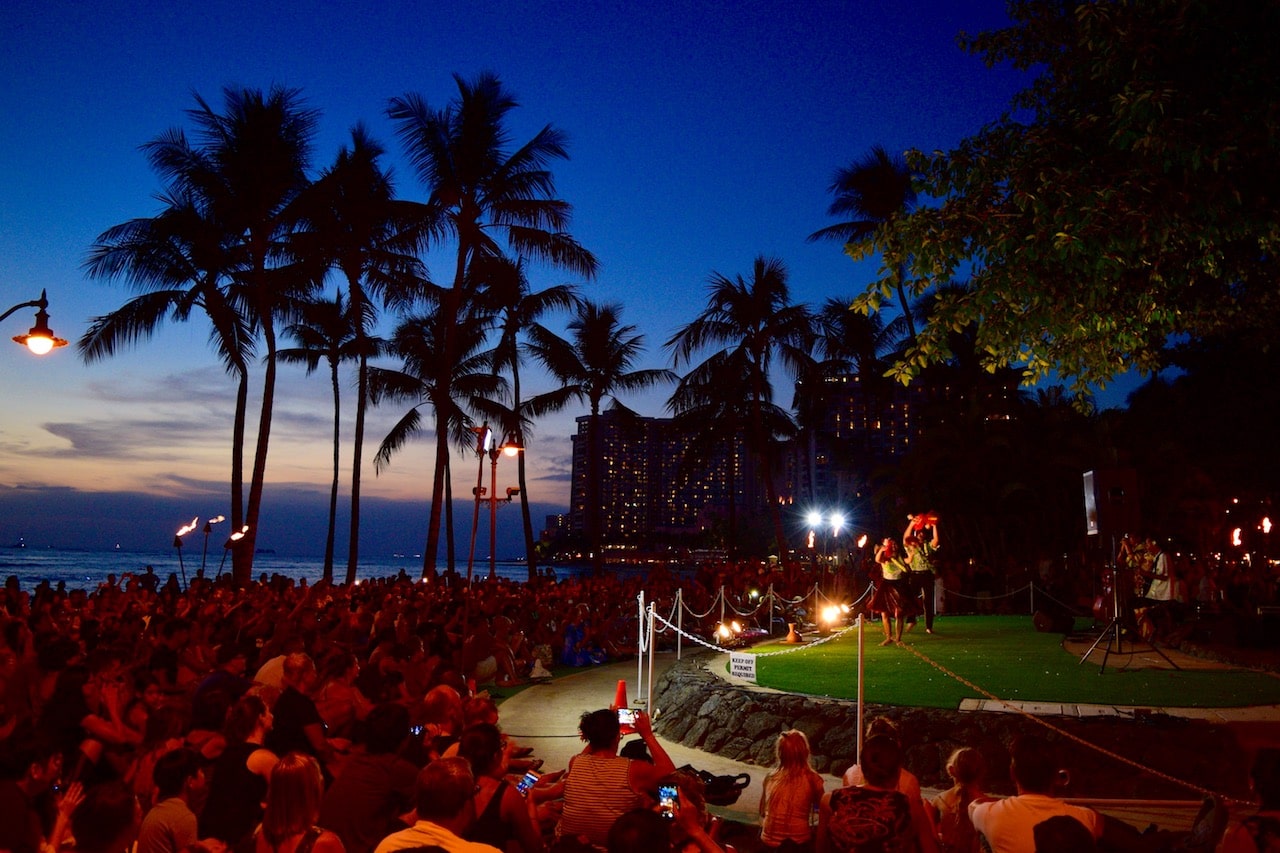 When you hear the word "Hawaii", what are the things that come to you mind?
It might be the beautiful beach, the palm trees, or some may think of hiking trails if that is your taste. But I am pretty sure hula dance will be at least one of the first five for everyone.
Now, if you are going to visit Hawaii, I think we can all agree that it is absolutely a great idea to see at least one authentic hula show.
Fortunately, even within the small district of Waikiki, there are many places where you can see authentic hula dance performance, ranging from ones you can casually stop by while shopping, the Kuhio Beach hula show for example, to a full-fledged luau show at Hilton Hawaiian Village, where you get to experience different dance performances from the entire Polynesia.
So, here is my list of authentic hula shows in Waikiki.
1. Kuhio Beach Park
If you are staying in Waikiki, you will inevitably walk on the famous Kalakaua Street, and if you walk on the Kamehameha Street, you will see the Duke Kahanamoku statue.
This area of Waikiki is called Kuhio Beach Park, and on the lawn stage a few palm trees away from the statue, you can see an hour-long hula show on the beach at dusk every Tuesday, Thursday, Saturday and Sunday.
You know, it is a hula show on the beach of Waikiki at sunset. You cannot tell me that it is not attractive.
So, why don't you stop by on the way to your Hawaiian dinner?
2. International Market Place
You can watch Hula and Tahitian dance performances every night at the new International Market Place, which was renovated in 2016.
The free 30-minute hula show named "O Nā Lani Sunset Stories" takes place in the courtyard located in the middle of the marketplace.
You can sit back on the lawn, or take a glance from the second floor, while taking a quick break from your shopping.
The show begins with igniting the "Lamaku Torch Tower" at the front entrance facing the Kalakaua Avenue. The hula dancers then march to the stage at Queen's Court, where the dance show takes place.
Please note that the start time varies depending on the season.
Also, there is a new Luau Show just started this year at the same location on Sundays, Tuesdays, and Saturdays.
Please check out the Queen's Waikiki Luau at International Market Place.
3. Royal Hawaiian Center
You can also see hula shows at the Royal Hawaiian Center, Waikiki's largest shopping center. If you have stayed in Waikiki before, the odds are, you have seen this performance while walking on the Kalakaua Street.
The performance is held on the Royal Grove, the square in the center of the facility, every Tuesday to Saturday from 18:00.
From Tuesday to Friday, Hawaiian music and Hula Auana (modern hula) are performed, and only on Saturdays, Hula Kahiko (classical hula). You might want to change the day according to your taste, or compare the two types of Hula, Auana and Kahiko.
4. Waikiki Beach Walk
Waikiki Beach Walk is a great place to shop, with a variety of shops along a fashionable cobblestone street.
In the grassy area right in front of the facility, children (Keiki) and adult hula are performed in the event called "Ku Haaheo" which starts at 16:30 every Tuesday evening.
You can sit on the grass and watch, so you can relax and enjoy hula and Hawaiian music while taking a break from shopping or sightseeing at the Waikiki Beach Walk.
5. Pualeilani Atrium Shops
Pualeilani Atrium Shops is located on the ground floor of the Hyatt Regency, which is directly accessible from Kalakaua Avenue.
Every Friday from 16:30, a Polynesian cultural event called "Aloha Friday" is held in Great Hall in front of the waterfall on the first floor.
Along with shopping, you can see hula dance as well as Tahitian dance and fire dance. In addition to watching performances, you can also experience making rays and Polynesian tattoos.
6. House Without a Key at Halekulani
If you want to enjoy nice dishes while watching the hula show, then you need to check Hawaiian restaurant/bar "House With A Key" in the famous Halekulani hotel.
Every night from 17:30 to 20:30, they have hula show and live Hawaiian band performances.
When you enter the venue, you will be asked if you are there for a meal or just to drink. If you answer meal, you are likely to be seated at a table in the back, and if you answer drink, you will probably be taken to a seat near the stage.
You can spend a relaxing time watching Waikiki sunset accompanied by some good food and a beautiful hula performance.
7. Edge of Waikiki at Sheraton Waikiki
Sheraton Waikiki's signature infinity pool is very famous in Waikiki.
The Oceanfront Bar "Edge of Waikiki", right next to it, offers live performances of Hawaiian bands, hula and ukuleles every night from 18:00.
In addition to drinks, light meals such as hamburgers and tuna pocket bowls are also available, so you can enjoy your meal while watching the show.
8. Pikake Terrace at Sheraton Princess Kaiulani
Right at the heart of Waikiki's Kalakaua Street, Sheraton Prince Kaiulani Hotel's buffet restaurant "Pikake Terrace" also offers hula and Hawaiian music performance.
Since it is a buffet restaurant, the menu of meals is abundant. You can enjoy as many different dishes as you like, including prime ribs, crabs, seafood, and Hawaiian Asian fusion.
For reservations, call their dining desk at 808-921-4600 or visit OpenTable.
For music performances starting from 18:00, it seems that the hula will be seen until around 20:30, but it may change depending on the time, so please check the schedule.
9. The Beach Bar at Moana Surfrider
Moana Surf Rider, founded in 1901, has established a solid position in Waikiki for over 120 years.
At "The Beach Bar" located along the beach, Hawaiian music performances are held, and solo hula dancers perform from 5:30 PM to 7:30 PM every day (Note: times may change).
Located next to the beautiful sandy beach of Waikiki, it has a great atmosphere and you can enjoy tropical drinks and carefully selected local Hawaiian pupus (snacks and appetizers) while enjoying a graceful moment in the view of Waikiki.
10. Hilton Hawaiian Village
Hilton Hawaiian Village boasts a vast site among many Waikiki hotels.
There are two types of events where you can enjoy hula, but both are more than just a hula show, but a Polynesian show where you can enjoy other dances from other Polynesian islands as well.
They are Rockin' Hawaiian Rainbow Revue and Waikiki Starlight Luau.
Rockin' Hawaiian Rainbow Revue
Rockin' Hawaiian Rainbow Revue is a Hawaiian show that combines the performance of ukulele, singing, and fire knife dance with a focus on hula.
If you buy a ticket with a $ 20 drink, you can relax on the beach chairs by the pool, but there are many customers who stand around the venue without buying a ticket.
After the Hawaiian show, the famous "Hilton Fireworks" will be launched, which will excite the night in Waikiki.
Waikiki Starlight Luau
The second one is "Starlight Luau". You can enjoy authentic Luau (Hawaiian banquet) while in Waikiki.
If you go to the venue, it will begin with a welcome ray, followed by a Polynesian play and a paint tattoo experience. It is exactly the Hawaiian style of hospitality as the name of "Luau".
The main feature of the program is "Voyage Across the South Seas", where you can see Hawaiian hula in a full-scale luau show that incorporates fire knife dances and dances from Polynesian countries.
This time I introduced "hula shows", but if you want to enjoy Hula as well as other Polynesian dances and traditional Hawaiian buffet, a luau show might be a better choice.
For more information, check out my list of luau shows on Oahu.