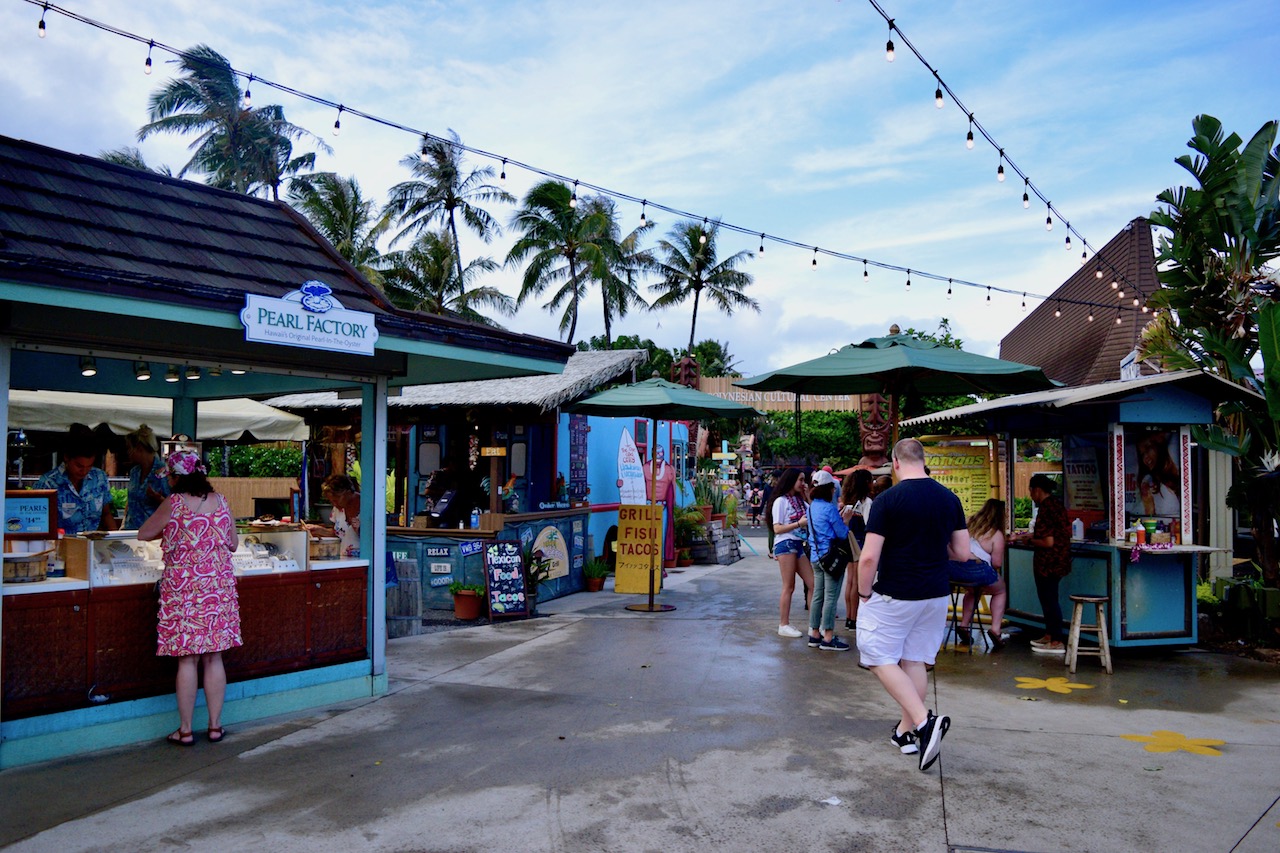 "Hukilau Marketplace" opened in 2015 in the city of Laie on the North Shore.
There are various shops such as "Pounders", a restaurant where you can eat local food, food trucks and gift shops with a wide variety of hot dogs, malasadas, tropical juices, etc.
We will introduce in detail this recommended spot that you should definitely stop by when sightseeing on the North Shore.
*This article was written based on the information from before COVID-19. Please visit their official website for the current situation of the marketplace.
What is Hukilau Marketplace?
Hukilau Marketplace is a shopping area with restaurants and food trucks in a nostalgic atmosphere inspired by Hawaii in the 1950s.
As I mentioned earlier, it is located in the town of Laie on the North Shore and is attached to the Polynesian Cultural Center.
However, there is no admission fee to Hukilau Marketplace and you can use the large parking lot of the Polynesian Cultural Center to park your car, so anyone can easily stop by.
Hours and Access
Hours:

Mon-Sat 11:00am – 9:00pm (Closed on Sundays)

By Car:

From Haleiwa: 30 mins (Kamehameha Hwy north bound)
From Turtle Bay: 15 mins (Kamehameha Hwy to the south)

From Waikiki: 1 hr (Highway through Kaneohe)

By The Bus:

From Haleiwa: 1 hr (#60 north bound)
From Turtle Bay: 30 min (#60 to the south)
From Waikiki: 2 hr (#60 east bound from Ala Moana)
Good for North Shore road trip and lunch at the Polynesian Cultural Center
When it comes to dining on the North Shore, Haleiwa Town was almost the only option, but the new Hukilau Marketplace has expanded the options a bit.
It takes about 15 minutes from Turtle Bay Resort, so it is recommended to stop by while heading for Kaneohe.
Those who take a tour of the Polynesian Cultural Center can also come shortly before the tour time and have lunch here if they are going by car.
There is also a table where you can eat food truck meals.
Shops
Pounders (Restaurant)
The main restaurant of Hukilau Marketplace. They have a large selection of high quality menus.
As you can see, they offer big Hawaiian burgers and pokes, as well as pizzas and ribeye steaks.
When it comes to North Shore sightseeing meals, food trucks such as garlic shrimp and huli huli chicken are definitely the focus of attention, but it's great for you to have such a solid restaurant added as an option.
Tita's Grill (Hawaiian)
Tita's Grill offers local Hawaiian meals such as garlic chicken, locomoco and rib plates.
Guadalajara Grill (Mexican)
This is a food stand with abundant Mexican food such as tacos and quesadillas.
Guadalajara Grill offers Mexican dishes such as carne asada with roasted beef and taquitos fried with cheese wrapped in small tortillas.
There is also something called fried ice cream, which I can't imagine.
They also sell tortilla chips with dips, which is great for snacks.
The Elephant Shack (Thai)
The Elephant Shack is a Thai food stand. Their menu includes coconut curry and Thai-style fried noodles Pad Thai.
When ordering coconut curry (PANANG CURRY) or Pad Thai (PAD THAI), you can choose the ingredients from tofu, chicken, and shrimp.
Hale Pops (Hot Dogs)
A hot dog stand with a wide variety of menus, such as "Common Kings" using traditional Hawaiian food Kalua Pork and "Kimchi dog" using… well… kimchi.
You can choose the size from 6 inches (about 15 cm) and 13 inches (about 33 cm).
Kiwi Style (New Zealand)
Kiwi Style is a food stand that serves New Zealand-style meals such as fish and chips, fish burgers, and fried squid.
Penny's Malasadas (Malasadas)
It seems that the type of flavor changes depending on the day, so check it out.
Delice Crepes (Crepes)
Delice Crepes is a crepe shop that offers not only sweet crepes with bananas and strawberries, but also crepes with turkey and garlic shrimp.
I really want to eat the 9th "S'MORE" crepe… !!
Tutu's Sweet Shop (Sweets)
At Tutu's Sweet Shop, you can find chocolates and sweets sold by weight, as well as many other sweets such as popcorn, cotton candy, and macadamia nuts.
Aunty Emily's Polynesian Bakery (Bakery)
This bakery is attached to the Pounders restaurant. They offer homemade sweets such as cinnamon rolls, brownies and cookies.
Mochi Brownie sounds interesting.
There was also a purple taro roll. It's a chewy and sweet bread, and it's really delicious when you eat it with butter.
Fia Fia Farms (Polynesian Drinks)
Fia Fia Farms sells smoothies and acai bowls.
My personal recommendation is a drink called Otai. A drink that originated in Polynesia and contains plenty of coconut, mango, and pineapple pulp.
So Da Bomb (Drinks)
So Da Bomb is a shop that sells various drinks such as lemonade and ginger ale.
Nona's
A shop that sells clothes with Hawaiian patterns. Maybe there is a bargain?
Some cute suitcases.
Hapa Home
A shop with Hawaiian-style interiors and accessories.
These items have a refreshing color and give a cool atmosphere when placed in the room.
Goo's Plantation Store (Souvenirs)
This is a shop that sells souvenir-like Hawaiian miscellaneous goods.
There are various things regardless of genre.
Polynesian Airbrush Tattoos (Airbrush Tattoo)
This tattoo stand was very popular with young people. Of course, it is not a real tattoo, but a fake tattoo using an airbrush.
You can choose from various Polynesian patterns and have it painted on your body.