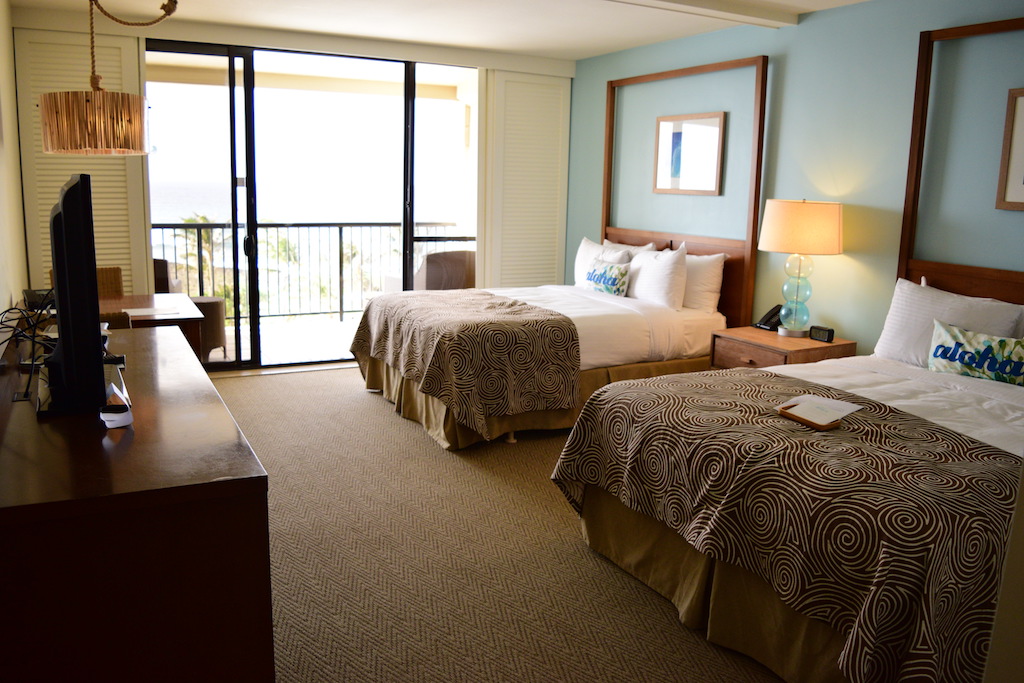 Even though every room at Turtle Bay has ocean views thanks to the unique location of the resort, the rooms at the Ocean Club Level (or formerly called Vista Level), the top floor of the hotel, have the best views and come with exclusive perks.
* Some of you may know this resort as "Turtle Bay Hilton and Country Club", which was its name until August 2001.
This post contains affiliate links. For more information, see my disclosures here.
Overview
Review
Interior
The interior of the room has a Hawaiian and Polynesian feel while maintaining a magnificent atmosphere.
You can rest comfortably on the queen bed with both hands and legs spread out.
Thanks to the large-scale renovation that started in 2018, not only the rooms but also the entire facility has become quite clean.
View (5th Floor)
From the balcony, you can enjoy the panoramic view of the North Shore.
The Premium Ocean View rooms have the best views as they are on the top floor of the Turtle Bay Resort Hotel.
The North Shore is a countryside, and the hotel itself is surrounded by the sea, so there is no hustle and bustle like Waikiki.
It is really recommended for those who just want to spend a relaxing time.
Balcony
Nice pair of chairs and ottomans, and a little side table on the balcony. When I sat down here while listening to the sound of waves, I really felt that I was in Hawaii.
Bathroom
The shower and toilet are only separated by glass, but it's nice to have plenty of space for each.
Ocean Club – Lounge and Perks
Ocean Club offers exclusive perks including exclusive access to the Ocean Club Lounge, a casually elegant private lounge with stunning ocean views.
At the Ocean Club Lounge, guests can enjoy complimentary drinks and food throughout the day; coffee and a selection of breakfast, snacks, lunch, and appetizers and red and white wines and beer in the evening.
Guests with Ocean Club access will also get:
Limited access to private lounge
Dedicated VIP Concierge
Premium seating at Paniolo Lūʻau
Preferred access to Turtle Bay events
More Information
If you need more details, please click on the links below and look for the rooms that say "Premium Ocean View" or simply "Premium".
Please also check another room type: Turtle Bay Resort – Ocean View Junior Suite